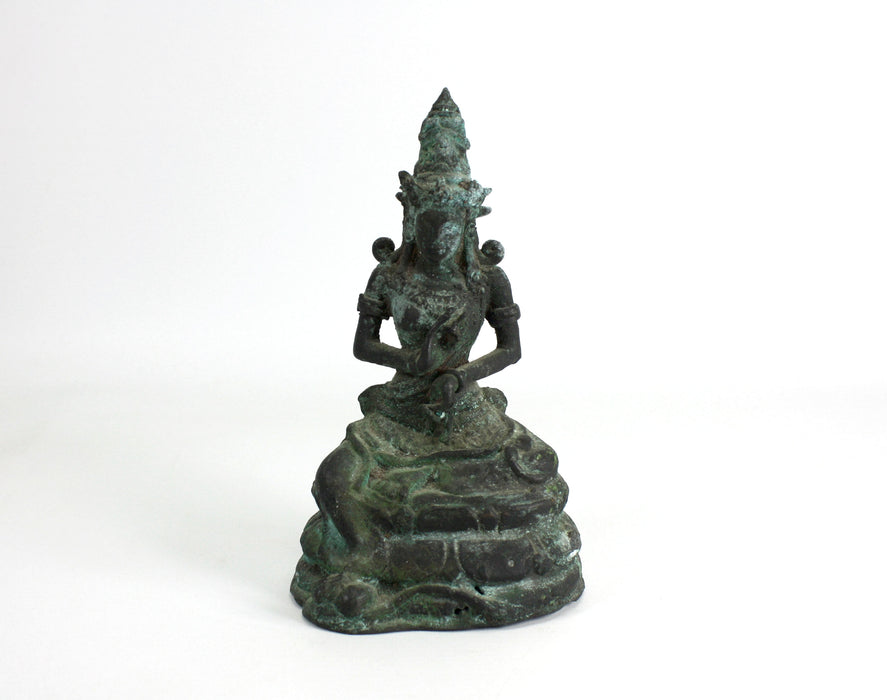 Antique Bronze Statue of Deity - Tara, Bodhisattva, 17cm high
Antique Bronze Statue of Deity - Tara, Bodhisattva, 17cm high.
SOLD
We have recently acquired a small collection of small antique Buddhist and Hindu religious statuary. These have considerable age, but are very difficult to put an exact date on them.
This statue appears to feature Tara in ancient Khmer style. She sits atop a lotus pedestal base. Hands in a form of Dharmachakra suggest balance and harmony. One leg is tucked inwards with the right leg pendent, resting on a supporting lotus flower with stem.
Tara is represented in Mahayana Buddhism as a female Bodhisattva, and in Vajrayana Buddhism as a female Buddha. This statue is particularly unusual as it combines the typical iconography often seen in Tibetan representations of Tara with a design style which appears to have a strong Khmer influence. Exact origin is unknown, but could be Indian or Khmer.
Provenance; Private Scottish collection.
Approximate Dimensions: 17cm high x 10.1cm wide x 7.2cm deep.
Weight: 462g.
Construction: Mainly hollow, solid clay core from mid torso upwards.
Material: Of copper alloy, but with bronze finish. Strong copper content producing coppery green patina.
Condition: Very good overall, but with general age-related wear. 2 wear holes of around 4mm long and a few pinprick holes in the pedestal area.