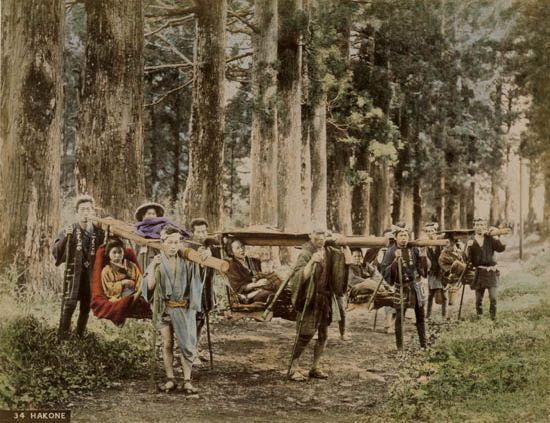 19th Century Japanese photo album
19th Century Japanese photo album
日本のビンテージ写真集
RECENTLY SOLD
A photo album of original albumen prints, hand coloured, of Japanese subjects. 
My initial research indicates that these are likely to be by a variety of Japanese photographers and includes Enami.
A stunning Japanese album, with 100 hand-colored photographs of landscapes, architecture, and occupational scenes, including Mount Fuji, Tokyo, Yokohama, Kyoto, temples, gates, stores, parks, roads, geishas, store proprietors, and domestic scenes, as well as a composite of babies, a toy shop, and an arch-topped scene of a Japanese funeral; several unusual images, and many with delicate hand-coloring.
Hand-coloured albumen prints, each approximately 8x10 inches (20.3x25.4 cm.), and the reverse, all but 15 with a caption and inventory number in the negative; with the original tissue guards.
Oblong folio, elaborate floral/faces patterned leather binding; all edges gilt; with the original cloth box, split at seams. 1890s.