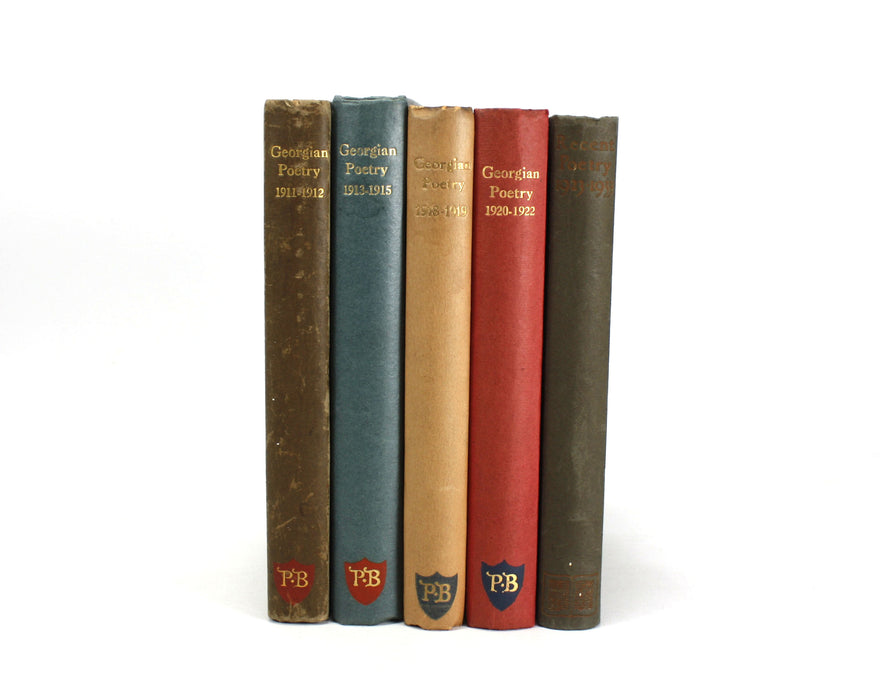 A Collection of Georgian Poetry, 5 Vols, 1911-1933. Poetry Bookshop, London.
A Collection of Georgian Poetry, 5 Volumes, 1911-1933.
SOLD
A set of 5 books consisting of;
Georgian Poetry 1911-1912. Published December 1912. eight Thousand.
Georgian Poetry 1913-1915. Published 1915,
Georgian Poetry 1918-1919.  Published November 1919.
Georgian Poetry 1920-1922. Published November 1922.
Recent Poetry 1923-1933. Published December 1933.

Georgian Poetry edited by Edward Marsh and Recent Poetry edited by Alida Munro.
All published by The Poetry Bookshop, London, with the Recent Poetry Book attributed to Gerald Howe Ltd & The Poetry Bookshop, London. The 1913-1933 volumes presumed first editions.
A good set of hardbacks with paper over boards and gilt titles. With a couple of Review slips and two items of correspondence. Some rubbing and wear to covers, but all soundly bound. Text is clean with occasional spotting. Gilt top edge to the 4 Georgian Poetry titled books.
Dimensions: each volume approximately 200mm high x 140mm wide x 25mm deep.
Unpacked weight approximately 1.7kg (the set).