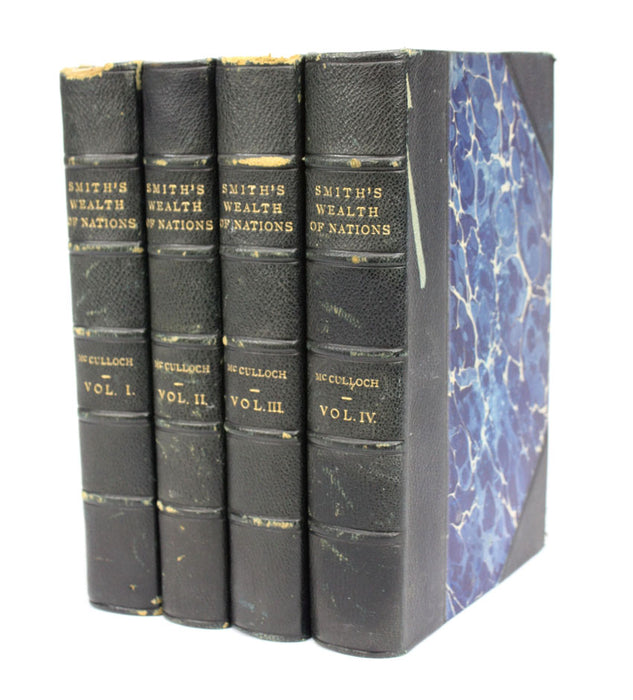 Adam Smith, Wealth of Nations, 4 Volumes complete, 1828
An Inquiry into the Nature and Causes of the Wealth of Nations by Adam Smith, LL. D. with a Life of the Author, an Introductory Discourse, Notes, and Supplemental Dissertations by J. R. McCulloch, Esq, Professor of Political Economy in the University of London. In Four Volumes.
SOLD
By Adam Smith. Published Adam Black, and William Tait; and Longman, Rees, Orme, Brown and Green, London, 1828.
A very good complete early set of Adam Smith's seminal work. This is the first McCulloch edition. Very good overall. Covers are navy blue half leather with raised bands and gilt lettering to spine and blue marbled boards. A later binding including new endpapers. Binding is completely sound. Text is nice and clean for age with just occasional spotting. Covers have signs of wear, bumping and a few nibbles, but a very handsome set overall. Previous owners name in beautiful script to each volume and very occasional pencil annotation, dated to 1837. Please view photographs.
Vol 1: Frontispiece of Adam Smith, xli + xcvi + 420pp.
Vol. 2: viii + 505pp.
Vol. 3: vii + 507pp.
Vol. 4: x + 634pp.
Page numbers 142-143 in Volume 1 and 594-595 in Volume 4 are omitted, as issued. All complete.
Dimensions: 8vo, each volume 216mm high x 143mm wide.
A heavy set weighing over 3kg unpacked.