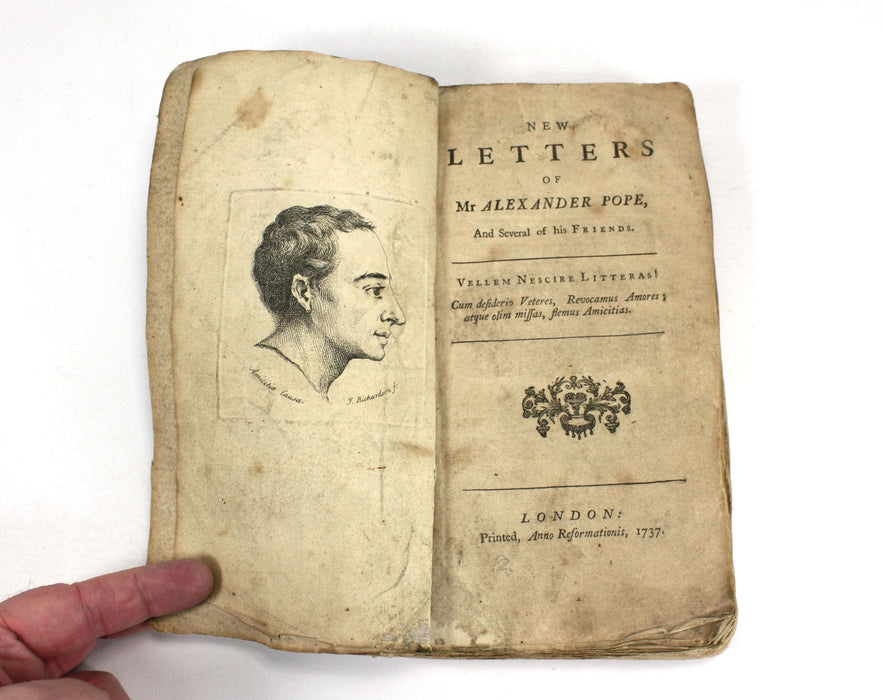 Alexander Pope Letters; Literary Correspondence, 1737
New Letters of Mr Alexander Pope, And Several of His Friends. Vellem Nescire Litteras!; Mr Pope's Literary Correspondence, Volume the Fifth, with Letters of Lord Bolingbroke, Lord Lansdowne, Sir Samuel Garth, Mrs Eliza Justice, William Bromley Esq, Pieces of Mr. Walsh.

SOLD
Published in London 1737. Printed for E. Curll.

An original 1737 volume of the letters of Alexander Pope (1688-1744), known as one of the great English Poets, and the second most quoted author, after Shakespeare, in the Oxford Dictionary of Quotations.

A good copy with only a fair cover. Cover is paper over card and is worn, soiled and bumped. Paper sections mounted to first free endpaper for binding. Text is age discolored, but forms a solid block of very legible quality. Scarce.

iv + 250pp + 2pp Parodie on the Imitation of the Second Epistle of the Second Book of Horace + 2pp advertisement + 16pp advertisement.
Dimensions: approximately 217mm high x 130mm wide x 25mm deep.
Unpacked weight approximately 300g.