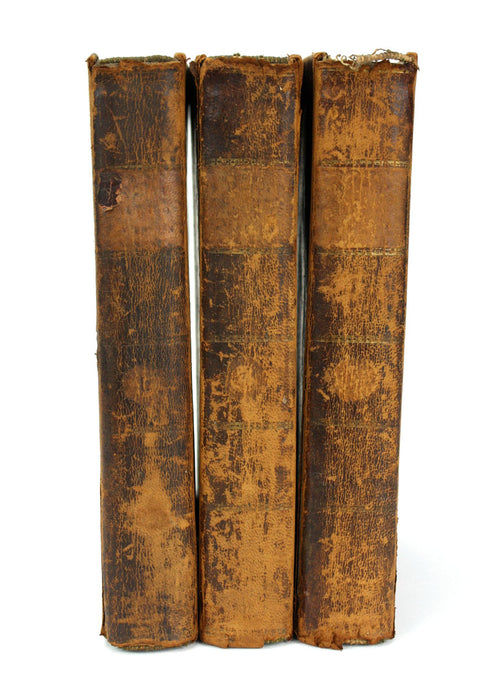 An Inquiry into the Nature and Causes of the Wealth of Nations, by Adam Smith, 1796
An Inquiry into the Nature and Causes of the Wealth of Nations, by Adam Smith, 1796
RECENTLY SOLD
By Adam Smith, LL. D. and F.R.S. of London and Edinburgh: One of the Commissioners of His Majesty's Customs in Scotland; and formerly Professor of Moral Philosophy in the University of Glasgow.
In Three Volumes. The Eighth Edition. Complete.
Printed for A. Strahan; and T. Cadell jun. and W. Davies (Successors to Mr. Cadell) in the Strand. 
London, 1796.
An early and very scarce set of this classic work.
Bound in original full brown speckled calf covers. Covers are good, though scuffed, bumped and worn. Original labels no longer present.
Internally, pastedowns have become unglued - interestingly revealing the scrap paper used between the pastedown sheet and the cover.
Elegant owner's signature.
Text is good overall. Volume 1 has moderate spotting and discoloration, volumes 2 and 3 only mild spotting. Binding is still firm.
Dimensions:
Each volume approx 222mm high x 140mm wide x 40mm deep.
Vol. 1: x + 499pp.
Vol. 2: vi + 518pp + appendix.
Vol. 3. vii + 465pp + Index + Advertisement.