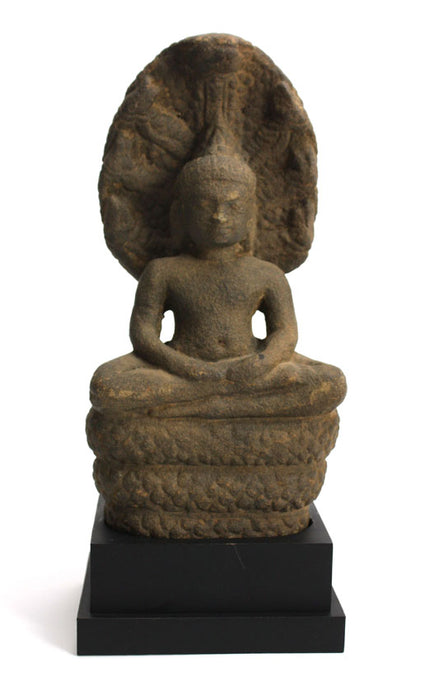 Antique Khmer Buddha with Naga, 13th century
Khmer Buddha with Naga
Sandstone Buddha seated on naga.
SOLD
The Buddha is calm and serene, in meditative dhyana mudra pose, fingers on lap. An incised lotus flower is sculpted into the canopy of the naga.
Condition is very good - some minor wear and abrasions as would be expected, but a very handsome piece. The type of stone would suggest the carving may have been made in Thailand rather than Cambodia, during the Khmer occupation. This type of stone has a darker coarser grain than Cambodian sandstone, and the softer features of the face would suggest a 13th Century carving rather than an earlier example.
This sculpture depicts the serpent king Muchilinda protecting the Buddha from heavy rains. There are numerous extant Cambodian images of this configuration because it was the focus of a cult during the reign of the Cambodian king Jayavarman VII, who ruled the Khmer empire from about 1181 to 1218. Although this scene had been depicted earlier in South and Southeast Asian art, it was the Khmer who popularized it. The reasons that Jayavarman chose to stress the Muchilinda Buddha remain speculative. Snakes were associated with healing, and perhaps because Jayavarman may have been lame, he emphasized healing, as indicated by his construction of hospitals throughout the kingdom.
Dimensions: 
23.5 cm high (excl base) x 12 cm wide x 7 cm deep
With base: 28cm high x 12cm wide x 9cm deep
Weight:
Just over 2kg (excluding wooden base).
Date: 
circa 13th century.