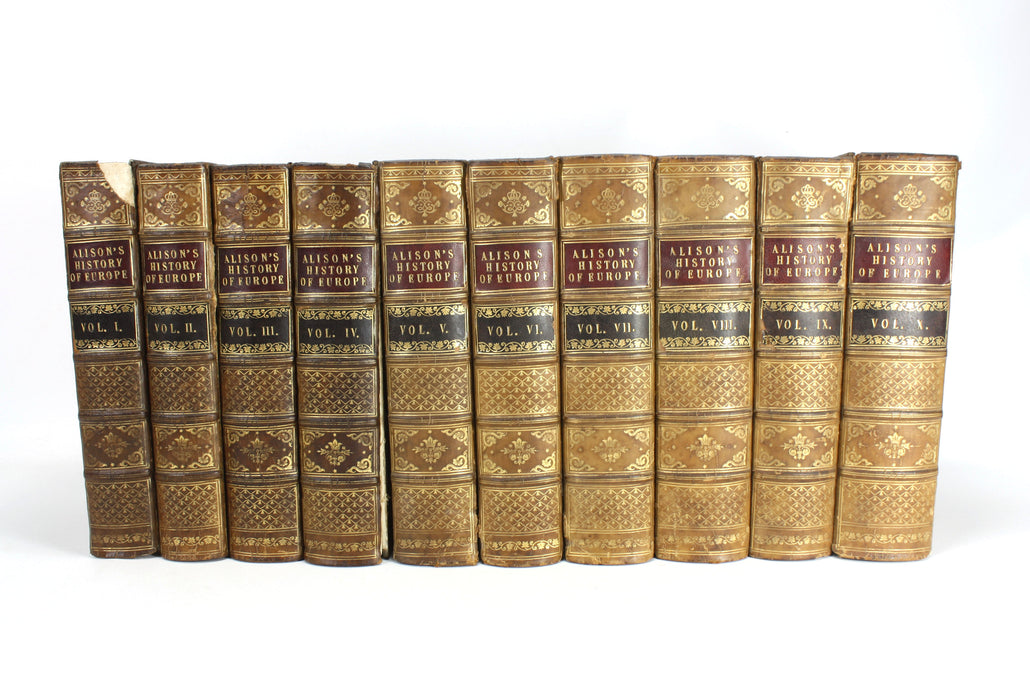 Archibald Alison, History of Europe, 1843, 10 Volumes. French History.
History of Europe: From the Commencement of the French Revolution in M.DCC.LXXXIX. to the Restoration of the Bourbons in M.DCCC.XV. By Archibald Alison, F.R.S.E., Advocate.
SOLD
Published by William Blackwood and Sons, Edinburgh and London, 1842. Fifth Edition. This edition complete in 10 Volumes.
A good set of full leather hardbacks with raised spines, and gilt labels. Covers are worn and rubbed with some losses in places (see photos). Cracking to outer hinges, and two covers are rather loose, although still attached. Marbled edges to text block, and bookplate of Millfield to first pastedown. Bound by Robert Seton of Edinburgh.
The textblocks themselves are firm and solid and generally nice and clean throughout., with only minor flaws. Volume X has some worming on the last few pages near the lower edge.
Imperfect, let down a bit by the covers, but a very readable set.

Language: English.
Dimensions: Approximately 221mm high x 145mm wide x 40-58mm deep.
Unpacked weight 12.3kg.