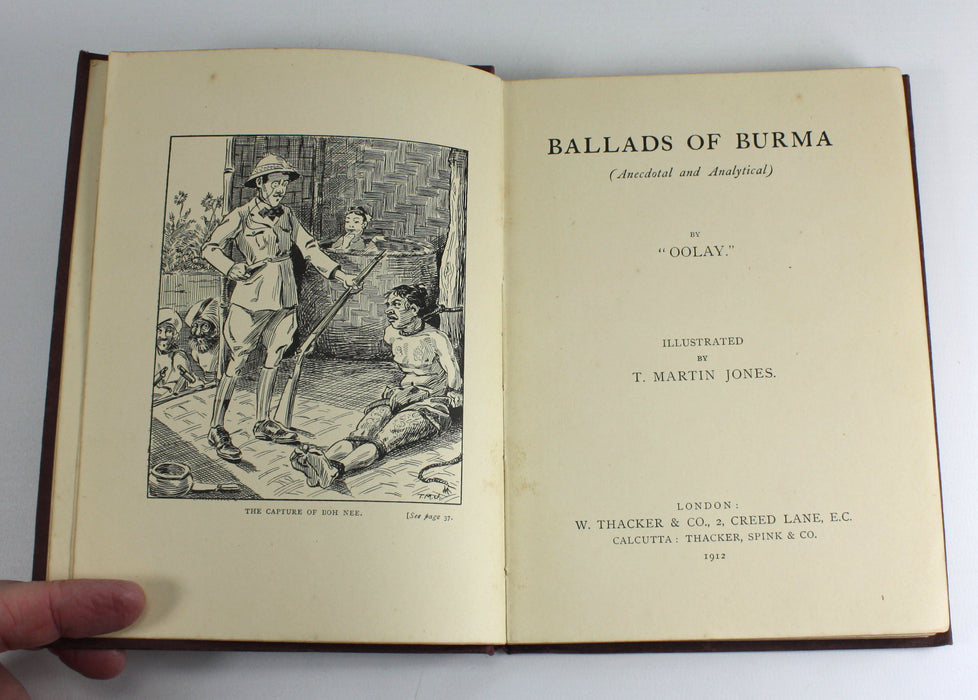 Ballads of Burma by "Oolay", 1912
Ballads of Burma (Anecdotal and Analytical) by "Oolay" (aka M.C. Conway Poole). Illustrated by T. Martin Jones. 1912
Published by W. Thacker & Co., 2, Creed Lane, E.C. (London). Calcutta:Thacker, Spink & Co. 1912. First edition.
A good copy of this book which is a snapshot of entertainment for colonial British Rule in Burma. The prose inside was mostly printed in the Rangoon Gazette, with some other content from the Rangoon Times and the Burma Critic.
Cloth hardback, covers rubbed and bumped. Previous owner's signature dated to 1944 on the inside front cover. Cracking to joint before the preliminary title page, but all still bound. Text is generally nice and clean throughout, with occasional pencil annotation. Charming illustrations by T. Martin Jones. Gilt edges.
Scarce - JISC Library Hub shows only 5 holding libraries - all in the UK.
xvi + 116pp/

Weight approximately 300g unpacked.

Dimensions approximately 190mm high x 144mm wide x 13mm deep.