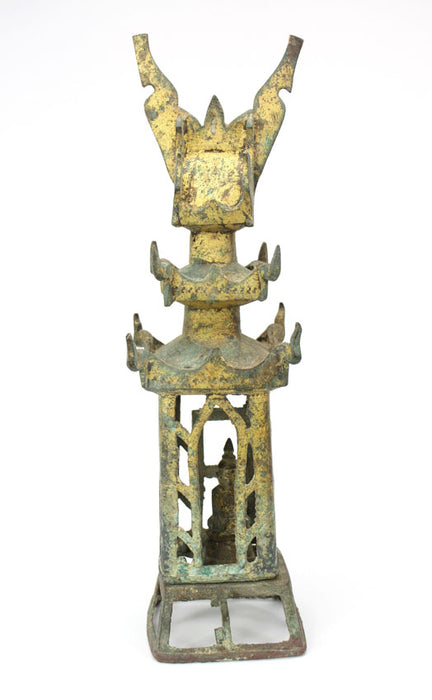 Bumese Miniature art: Burmese gilded bronze Buddha in the house of jewels, 18th-19th Century
Burmese gilded bronze Buddha in the house of jewels, 18th-19th Century
RECENTLY SOLD.
Burmese Shan (Tai-Yai) seated Buddha in the "house of jewels". During the enlightenment process, the prospective Buddha meditated in a "house of jewels, which was prepared by the Gods for him - one of the Seven Sites - the episodes in the Life of Buddha following enlightenment
As is typical of this type of art, the left hand of the Buddha rests in the lap in deep contemplation of the future Buddha (dyhana mudra) and the right hand points to the earth to call the earth goddess to witness. The Buddha sits inside the house of jewels - which is removable (see photographs).
This is a lovely example of Burmese Shan (Tai-Yai) miniature art and is a complete set - which is very hard to find now as most sets are found only in part, and this set is particularly difficult to locate. The bronze still retains extensive traces of gilding (particularly to the front).
For similar examples please see Myanmar Buddha, the image and its history by Somkiart Lopetcharat and Burmese Buddhist Sculpture, the Johan Moger Collection by Otto Karow.
Dimensions:
28cm high x 7cm wide x 6.6cm deep
Date:
18th-19th Century