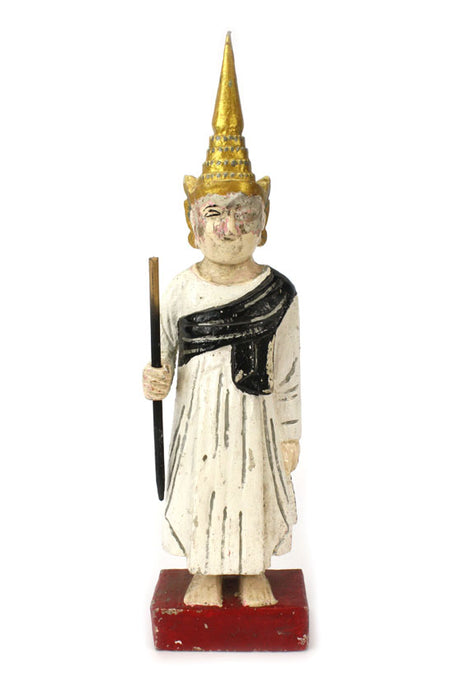 Burmese Bobogyi Nat, standing figure, JC1
Burmese Bobogyi Nat, standing figure, JC1.
RESERVED
He is Bobogyi, a Burmese guardian spirit or nat, found in many shrines throughout Burma. He is seen as a "respected grandfather" figure and is often depicted in this pose with his walking stick in his right arm. See "Bobogyi: A Burmese Spiritual Figure" by Benedicte Brac de la Perriere and Cristophe Munier-Gaillard, River Books, 2019, for further information and a similar style modern example is depicted in plate 14, amongst others.
Nats date from from pre-Buddhist animist beliefs of Burmese people. These are a group of supernatural beings, or nature spirits, of which there is special group of 37 'royal' Nats. This particular Nat lies outside the royal pantheon. 
Nat worship still occurs in Burmese society alongside Buddhism which is the prevalent religion. It is much more common in rural areas.
Lacquered paint on teak wood, on dark red base. The carving and decoration is well executed and detailed. With age wear - see photos.
Dimensions:
35cm high x 6cm deep x 9cm wide
Date:
20th Century