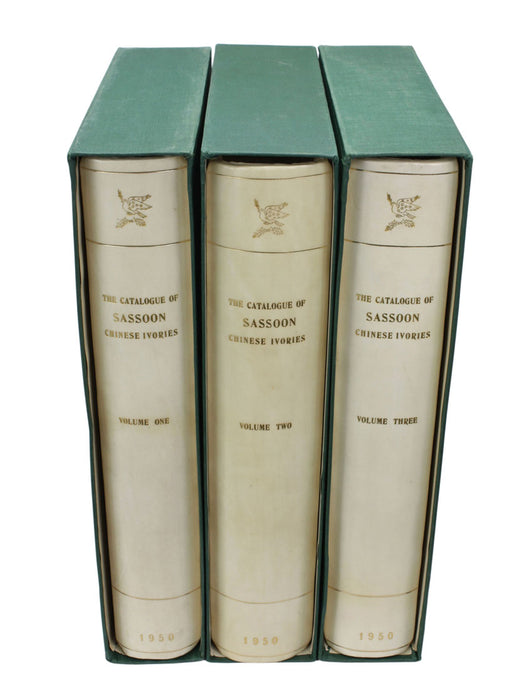 Catalogue of the Sassoon Chinese Ivories, deluxe 3 volume 1st edition set
Save

Liquid error (snippets/product-badge line 32): Computation results in '-Infinity'

%
Catalogue of the Sassoon Chinese Ivories, deluxe 3 volume 1st edition set.
Catalogue of the Sassoon Chinese Ivories, in Three Volumes, compiled by S E Lucas.
《SASSOON中国象牙》 图录
Published by Country Life Ltd: London and Charles Scribner's Sons: New York.
1st edition 1950. Limited edition of 250 copies. This set No. 135. Signed by Sir Victor Sassoon and by Sydney Edward Lucas.
This is a magnificent set and one of the very best examples we have seen come to market. In fine condition throughout, with just very minor scuffing to the original green cloth slipcases. The set details the wonderful collection of Chinese ivories, collected by Sir Victor Sassoon between 1915 and 1927. Many pieces were purchased from Manchu families and others from Taoist and Buddhist temples.
With frontispiece in colour and 224 plates of 966 objects. Bound in half vellum and green cloth with gold embossing. Gilt top edge and uncut pages as issued.
A really wonderful set of substantial proportions. Each Volume in Slipcase approx 405mm high x 309mm wide x 80mm deep. Individual volumes weight up to 8kg each.
1950年限量編號《沙遜藏中國象牙雕刻》 3冊全

沙遜家族是全世界最富有的阿拉伯商人之一。19世紀中葉他們從巴格達避難到遠東。"沙遜洋行"大名鼎鼎。在上海的这一支,僅地產一項,即建有华懋公寓、峻岭寄庐、河濱大樓与和平饭店,到今天還是地標。

申城生意的话事人——家族第四代維克多,曾在一戰中負傷,被沪人戲稱為"翹腳沙遜"。維克多很早就开始關注牙雕,這套巨作編號135,涵有圖版966幅,是他昔年蒐集的菁華。大多于動蕩的民國初年,購自沒落的京城皇冑。全書三厚冊,毛邊,三面刷金,荷葉綠布面襯小羊皮書脊,觸手潤澤如美人肤,烫金書冠幼細如花鈿。即使在相關交易難被允准的今天,若是認真藏家,這套書就不該錯過。