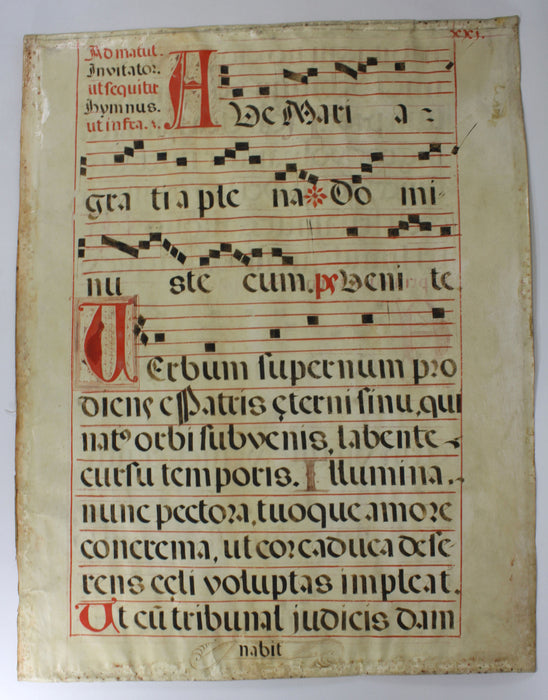 Original Antique Vellum Antiphonary Music Sheet, circa 16th Century, Item C
Original Antique Vellum Antiphonary Music Sheet, circa 16th Century, Item C.
SOLD
We have recently acquired a small collection of original vellum music notation leaves known as antiphonary. These contain the musical score and latin chants used in religious choral chanting in the Roman faith. This would include the music known as Gregorian chants, which many people will be familiar with.
The sheets are of large size, enabling multiple choristers to view the music at once and are in handwritten manuscript form on vellum, with decorated initials.
They contain text in Latin and the 5 stave musical notation with square style notes of the time.
Each sheet is a unique slice of history with its manuscript form providing a unique document. All sheets are in double sided manuscript.
Exact age and origin is unknown, but circa 16th Century.
Provenance: Private Scottish collection.
Dimensions: 
Each sheet is approximately 68cm high x 53cm wide (27 inches x 21 inches).

Item C:
Side 1 carries 4 lines of musical notation beginning with a decorated red initial, along with black ink Latin script, which is preceded with a red and black text introduction. An attractive decorated red initial begins a latin text paragraph which continues verso with additional red ink script. This is then followed about half way down the leaf with 4 new lines of musical notation.

Postage:

Due to size, these will be delivered by courier - they will be gently rolled so as not to cause any damage. Conventional Royal Mail postage would require them to be rolled too tightly to fit size constraints. If you are interested in purchasing more than one sheet, please let us know and we will be able to reduce the overall postage charge, by combining items in the delivery.