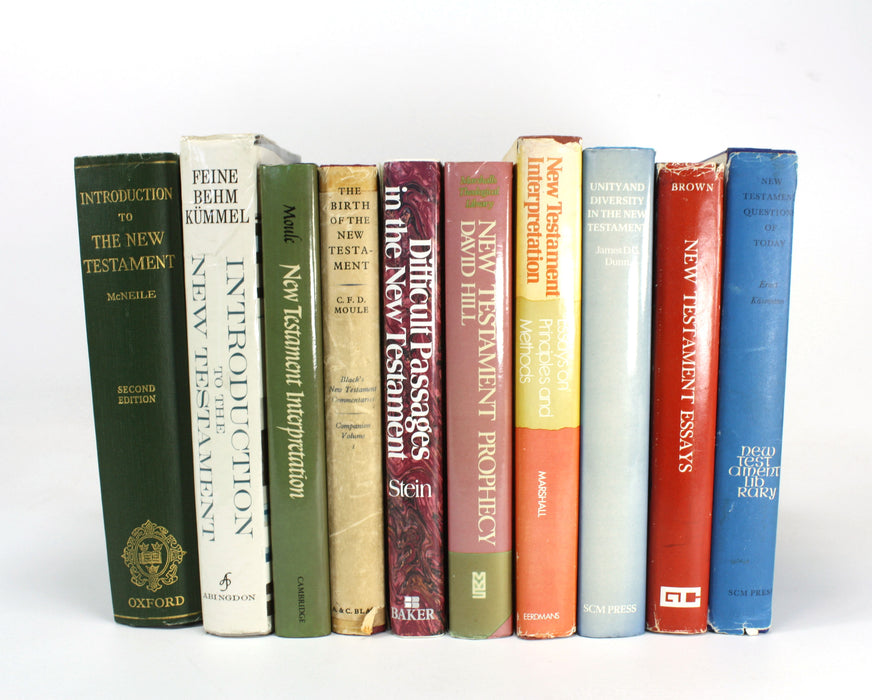 Theology Bundle: New Testament book collection, Set 1 (with 1 signed copy)
Save

Liquid error (snippets/product-badge line 32): Computation results in '-Infinity'

%
Theology Bundle: New Testament book collection, Set 1 (with 1 signed copy).

We have recently acquired a collection of books on theology and religion. Some will will be listing as individual titles, but others we will be bundling into sets which will offer very good value for money.
Condition of the books generally ranges from good to very good, but there will be exceptions. Please expect some titles to be ex-library, have owner's signatures,  studious annotations, or minor damages, but the books will be in a very usable condition.
Titles included in this particular bundle are listed below. If you require specific detailed information on any particular title please just let us know.
Set comprises;
Essay in New Testament Interpretation, C.F.D. Moule, Cambridge University Press, Cambridge, 1982, 1st edition.
An Introduction to the Study of the New Testament, A.H. McNeile, Oxford at the Clarendon Press, 1953, 2nd edition (revised) - 1st edition was 1927, reprinted in 1950, and revised for this edition in 1953..
Introduction to the New Testament, Paul Feine and Johannes Behm, Abingdon Press, Nashville and New York, 1966, 14th Revised Edition. Completely reedited by Werner Georg Kummel and translated by A.J. Mattill, Jr.
Difficult Passages in the New Testament, Robert H. Stein, Baker Book House, Grand Rapids, Michigan, 1990, 1st edition thus. With author's presentation inscription to the title page, and hand written letter thanking the same person for sending him his rebound Synopsis.
The Birth of the New Testament, C.F.D. Moule, Adam & Charles Black, London, 1962, 1st edition.
New Testament Interpretation, I. Howard Marshall, William B. Eerdmans Publishing Company, Paternoster Press, 1979, Second printing of the 1st British edition.
Unity in the New Testament, James D.G. Dunn, SCM Press Ltd, 1977, 1st edition.
New Testament Essays, Raymond E. Brown, Geoffrey Chapman, London & Dublin, printed in the USA, 1965, 1st edition.
New Testament Prophecy, David Hill, Marshall, Morgan & Scott, London, 1979, 1st edition.
New Testament Questions of Today, Ernst Kasemann, SCM Press, London, 1969 1st English edition.
Text in English.
Weight: Approximately 6.5kg (the set - unpacked).
Books will generally have to be sent by courier delivery due to weight.