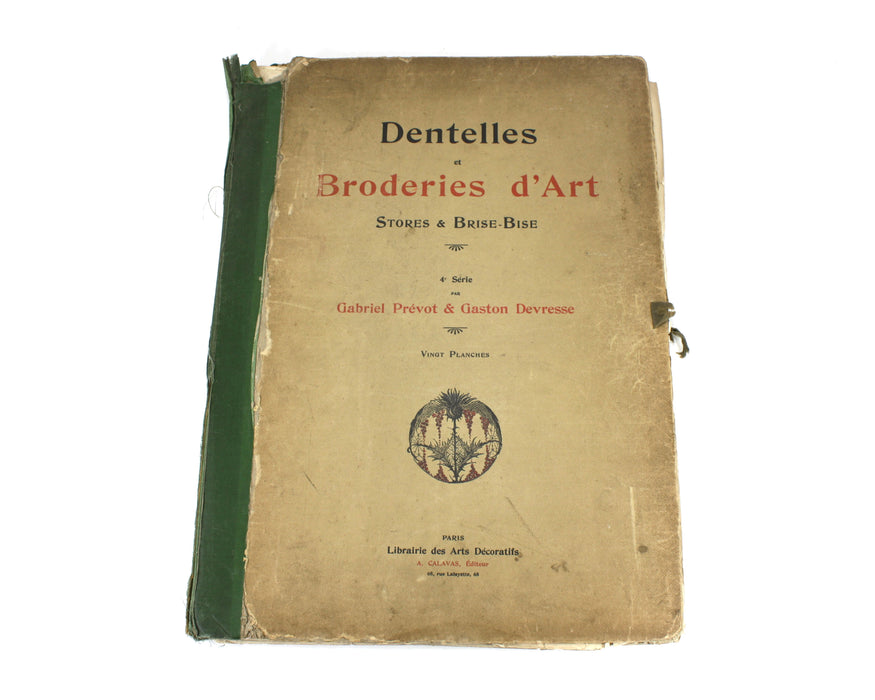 Dentelles et Broderies d'Art, Prevot & Devresse
Dentelles et Broderies d'Art; Stores & Brise-Bise. 4e Serie par Gabriel Prevot & Gaston Devresse. Vingt Planches. Artistic Laces and Embroidery; Blinds and Brise-Bise (a type of lace kitchen curtain hung on the lower section of a window).

SOLD
Published by Libraire des Arts Decoratifs, A. Calavas, Editeur, Paris. Undated, but c. 1900. 
A large folio - cloth over card with linen spine and remains of cloth ties. Covers are worn and soiled  with fraying and splitting to linen, but still bound. The word Burn is handwritten on the rear cover - but luckily this instruction was never followed!

Inside are the cover sheet and all 20 Plates as called for, printed on a heavy paper stock. Edges are worn with small tears and losses. Sheet 3 with creases and a larger tear along the crease.
Fair condition overall - a far from perfect set - but complete and scarce. An interesting set of intricate textile design.
Folio + 21pp (on 21 sheets, printed on one side).
Weight approximately 1330g unpacked.
Dimensions: Approximately 464mm high x 340mm wide x 15mm deep.