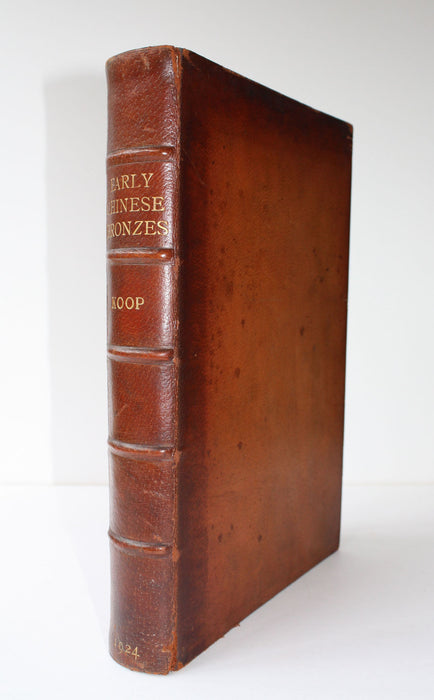 Early Chinese Bronzes, by Albert J Koop, 1924, deluxe limited edition in full leather
Early Chinese Bronzes, by Albert J Koop, 1924, deluxe limited edition in full leather
RECENTLY SOLD: Please let us know if you would be interested if another copy becomes available.
Only 40 numbered copies of this beautiful volume were produced of which only 35 were offered for sale. This is numbered 25 and is signed by the author A J Koop.
Printed on papier cheval chinois and published in London 1924, by Ernest Benn Limited.
Full leather binding which is a little rubbed and darkened at edges. Gilt lettering to spine. Signs of wear and very slight beginnings of a split at the top of spine, but binding is firm overall. Text pages have some minor spotting at beginning and end of volume, but are overall very good and generally very clean. Worn leather cover has a very attractive hue.
viii+84 printed text pages, followed by 110 beautiful plates. A few of which are tissue guarded colour plates.
An extremely desirable and scarce book.
Dimensions:
Folio 332mm high x 240mm wide x 50mm deep.