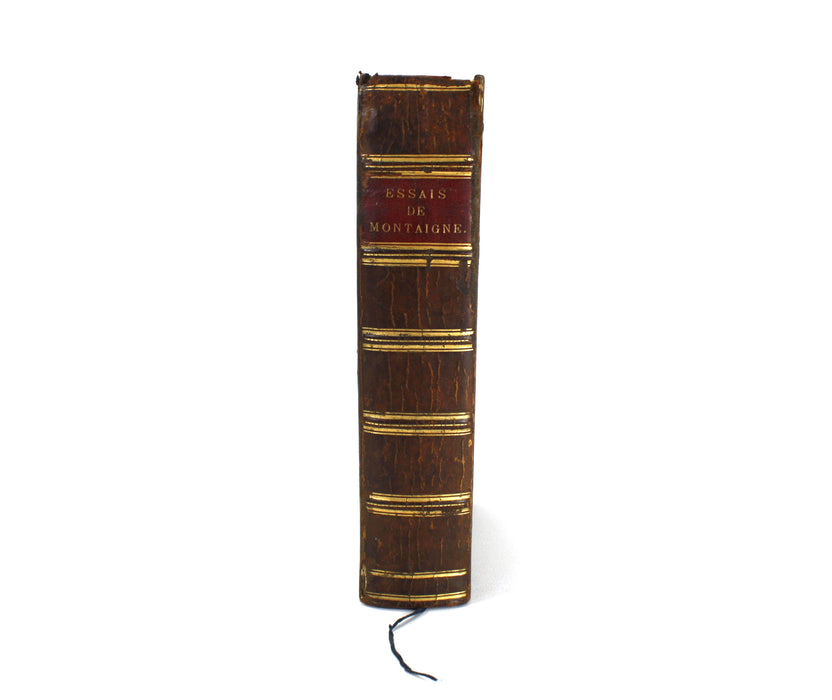 Essais de Michel de Montaigne, 1860
Essais de Michel de Montaigne; Precedes D'une Lettre A. M. Villemain dur L'Eloge de Montaigne par P. Christian.
Published in Paris, Librairie de L. Hachette et Cie, 1860. Bound by Carrs & Co of Glasgow.
A fair, full leather hardback, with gilt raised bands and title label to spine. Covers worn and rubbed with cracking to hinges, some discoloration and wear to leather. Split endpaper at inner joint at front and reinforcement cloth strip at rear inner joint, but all still bound. Pencil annotations to front endpapers. Text block itself is a solid block.
Water staining affecting the textblock particularly pronounced at front and rear and diminishing towards the centre. Unsightly, but not affecting legibility. Text otherwise clean. Priced accordingly.
xii + 718pp.

Language: French.
Dimensions: approximately 180mm high x 120mm wide x 40mm deep.
Unpacked weight approximately 0.64kg.