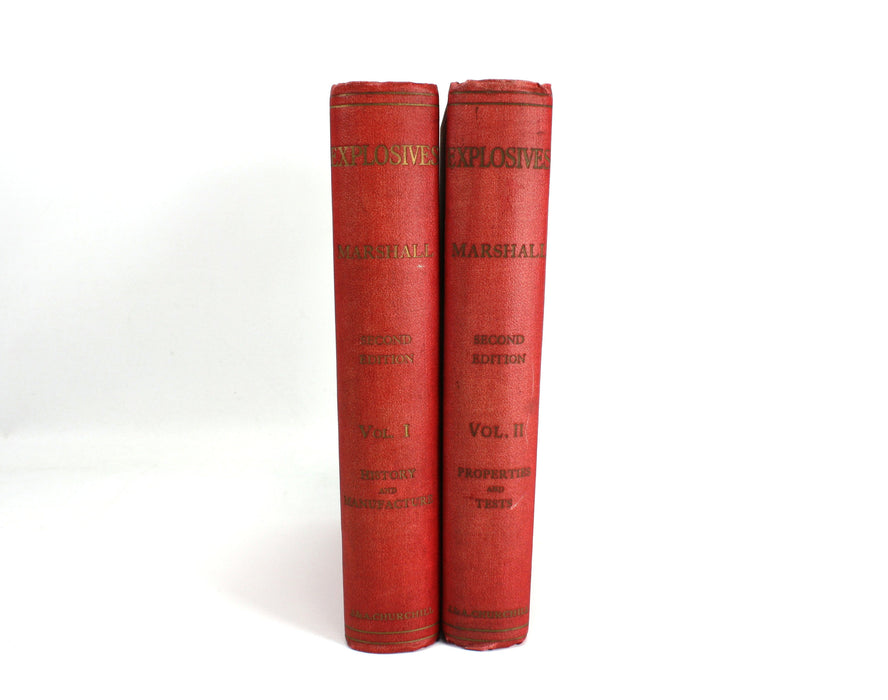 Explosives by Arthur Marshall 1917, 2 Volume Set
Explosives by Arthur Marshall, 1917, 2 Volume Set. A third continuation volume was issued much later in 1932.
SOLD
Published by J. & A. Churchill, London, 1917. Second edition;
Volume I: History and Manufacture - with 77 Illustrations. xv + 407pp.
Volume II: Properties and Tests - with 80 Illustrations. ix + 411p + 795pp.
A very good, and substantial set, of the second edition of this very comprehensive work on explosives, published during the period of the First World War.
Red buckram cloth hardback with gilt titles - a little worn on the spine. minor bumping and wear. Text is nice and clean throughout, with the occasional age spot. Endpapers with mild foxing. In Volume 2 the webbing can be seen in the gutter between two gatherings at one point, but all remains soundly bound. A fairly scarce set.
Dimensions:
Each volume approximately 254mm high x 200cm wide x 44mm deep. Set weighs approximately 3.8kg unpacked.