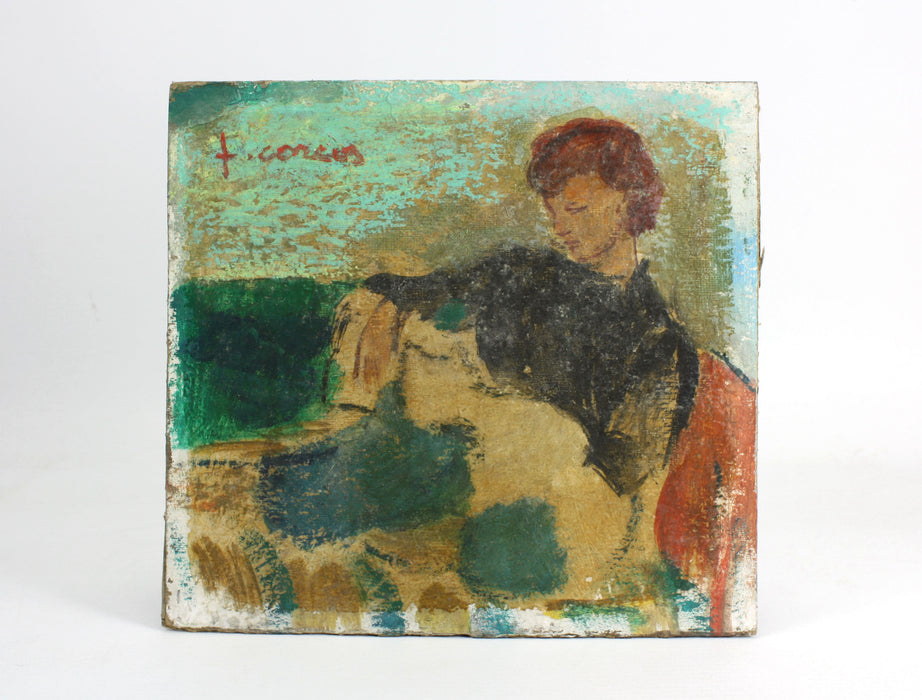 Franca Corcos Painting; Nell (?). Portrait of a Lady. 17.8cm x 19cm.
Original painting by Franca Corcos (Franca Brusca Benvenuta Corcos).

SOLD
Franca was an Italian artist (1910-1980), who is said to have attended the Academy of Fine Arts in Florence from 1929, and is known to have exhibited in important Florentine exhibitions in 1935.

During a period where Franca travelled between Paris and North Africa, exhibitions in Algeria, Morocco, Paris, and Italy between 1945 and 1954 showed the artist's work.
In 1953 at the Donatello Apert Exhibition in Florence, her painting, 'Barca sur Fiume' was purchased by the Gallery of Modern Art.
We have recently purchased an entire portfolio of paintings and drawings by Franca Corcos and present them here for sale. Should you wish to purchase more than one of these, please let us know before you purchase online, as postage costs can be combined and artworks sent together.
Artwork will be mailed flat and secure, to avoid damage.
Please see our other listings for alternative works by this artist.
This work for sale is:
Title: Nell (?). Portrait of a Lady.
Medium: Oil on canvas board.
Size: 178mm high x 190mm wide.
Signed: To front and rear.
Any Identifier Number: To rear: NDA 451.
Condition notes: Nicks and nibbles and wear to edges, and a few small tears at edges. Card has more crease marks and wear near the lower edge.