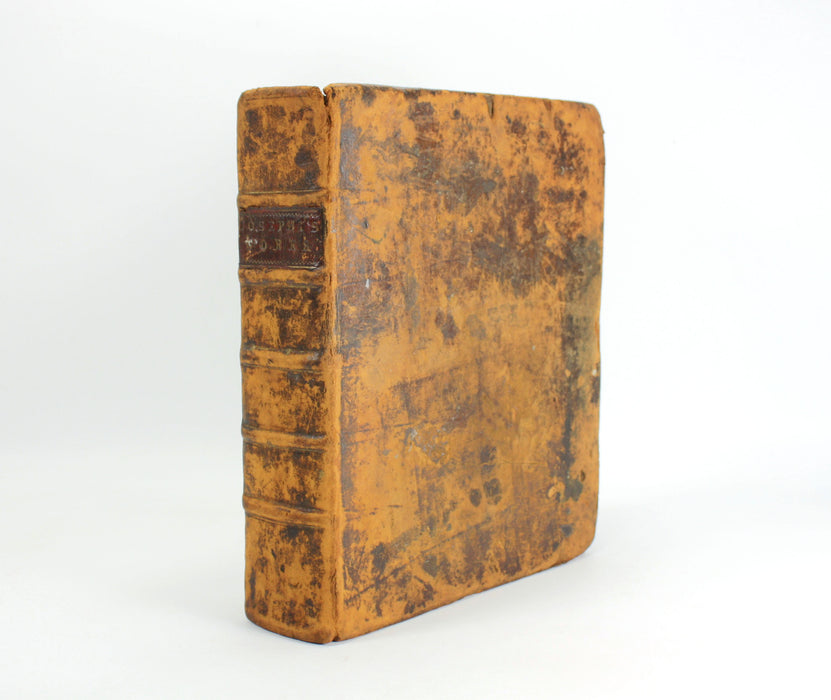 Genuine Works of Flavius Josephus. c. 1808
The Genuine Works of Flavius Josephus, The Jewish Historian, containing twenty books of the Jewish Antiquities, seven books of the Jewish War, and the Life of Josephus, written by himself, translated from the original Greek, according to Havercamp's accurate edition, together with explanatory notes and observations; parallel texts of scripture; the true chronology of the several histories; an account of the Jewish coins, weights and measures, and a complete index by the late William Whiston, A.M., Professor of Mathematics in the University of Cambridge. A new edition, now first revised and improved by the Rev. Thomas Smith, in two volumes. The two volumes are bound as one.
SOLD
Published by Albion Press. Printed for James Cundee and Williams and Smith, London. Undated but circa 1808. Second edition.
Large hardback volume bound in original contemporary full leather.Raised bands to spine and title label. Covers are heavily marked and worn, but all still bound. Endpapers are suitably aged with rear pastedown with previous owner's inscription.

Frontispiece is detached and hinge split at that point. Title page is followed by a 2pp advertisement for the 2nd edition. Text is generally good throughout with foxing to various degrees, occasional page tear and age discoloration. The fold out Plan of the temple at Jerusalem section is heavily creased and torn. Index at rear ends at 'Scopas'.
viii + 468pp + Plates (Vol 1).

368pp + Plates (Vol. 2).
Dimensions: Approximately 278mm high x 222mm wide x 70mm deep.
Weight: Approximately 2.22kg.