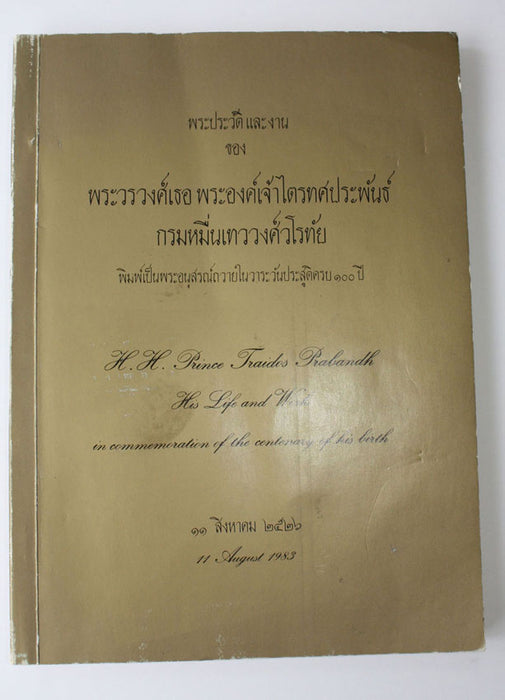 H H Prince Traidos Prabandh, His Life and Works, 1983, signed by Thai Royal Princess
H H Prince Traidos Prabandh, His Life and Works, 1983, signed by Thai Royal Princess
in commemoration of the centenary of his birth
RECENTLY SOLD
A very rare opportunity to obtain a book signed by a member of the Thai royal family.
This book has a signed dedication to "Professor Fry, hoping to awake his interest in fairly recent South East Asian history, Sincerely Pantip Chumbhot, Suan Pakkad, 10th August 1983". Signed in English.
This book has been signed the day before its official publication date of the 11th August 1993, privately published by the author M.R. Pantip Paribatra, Princess Chumbhot of Nagor Svarga, at the Craftsmen Press Ltd.
The book is an affectionate tribute to her father written by the Princess. Also contains detailed genealogy of his Royal lineage (with a few handwritten corrections, presumably also by the Princess). Also contains a number of interesting appendices including correspondence and an explanation of Thai Royal titlature.
Book is in softback format, with metallic gold outer cover and black lettering. Cover has signs of wear and slight creasing and bumping. Text pages are clean and bright.
First half of the book is in Thai, followed by an excellent series of 23pp black white plates of Thai Royal family life, then an English translation of the text. Book also contains a tissue guarded plate of Prince Traidos near the front of the book.
Dimensions:
264mm high x 192mm wide x 12mm deep