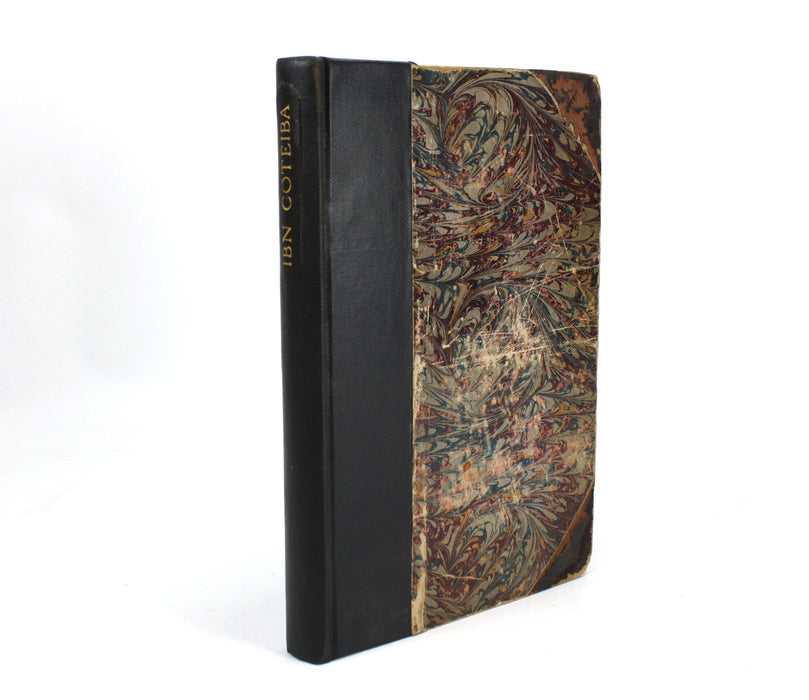 Ibn Coteiba's Handbuch der Geschichte 1850, Ibn Qutaybah (ابن قتيبة)
Ibn Coteiba's Handbuch der Geschichte 1850. Scarce Arabic text. This book is Kitāb al-Ma'ārif, short universal history, from Creation to the Jahiliyya (pre-Islamic); with index of the Companions, famous jurists and masters of hadith.

SOLD
Ibn Coteiba, aka Ibn Qutaybah (ابن قتيبة), c. 828-889 was an Islamic Scholar of Persian descent, and born in what is now Iraq. He was author of more than 60 books.
Edited by Ferdinand Wustenfeld.
Published by Vandenhoeck und Reprecht, Gottingen, Germany, 1850. 1st edition thus.

A good copy of this 1850 printing (which is now extremely scarce). With original marbled boards with calf corner protectors. Spine has been professionally replaced and new endpapers surround the tightly bound text. Text is good throughout with  some foxing at extremities and some spotting. Some discoloration to page edges, but a very acceptable copy of a very scarce book.
Language: German introduction. Main text in Arabic.

8pp German introduction, followed by Arabic.
Dimensions: 251mm high x 171mm wide x 25mm deep.
Unpacked weight approximately 714g.