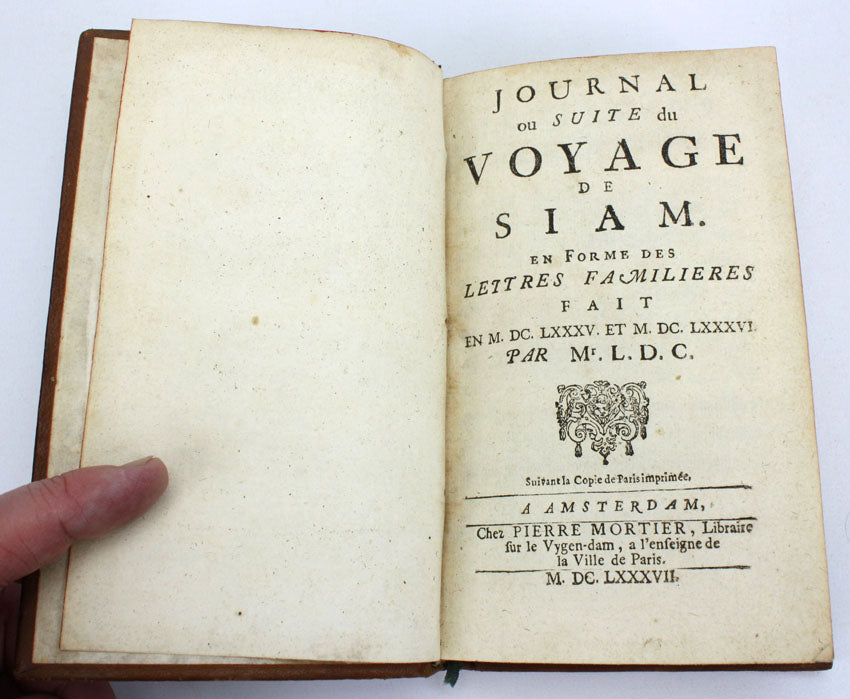 Journal ou suite du voyage de Siam, Abbe de Choisy, 1687, rare 1st Amsterdam edition
Journal ou Suite du Voyage de Siam, Abbe de Choisy, 1687, rare first edition.
SOLD
This is the rare first Amsterdam edition of this work from 1687, following the first Paris printing. A very early account of Western travel to Thailand (Siam).
Choisy, Abbe De. Journal ou suite du voyage de Siam en forme des lettres familieres fait en MD CLXXXV et MD CLXXXVI, par Mr. L. D. C. suivant la copie de Paris imprimee.
Published: Chez Pierre Mortier, Amsterdam 1687.
Edition: First Amsterdam Edition. 
Binding: Later full calf leather, scuffed and bumped, and with spurious "Tom III - Volume 3" added to spine.
First Edition, pp. 3pp + 377pp + 3pp. Text pages are very good overall and clean for their age. Only the occasional small stain and lacking any worming often associated with books of this period. A very good copy overall.

Abbe de Choisy along with Chevalier de Chaumont were sent by King Louis XVI as representatives of France to the Kingdom of Siam under the Reign of King Narai the Great. This rare volume is a detailed journal written in the form of correspondence letters of Choisy's observations including countless details of daily life in Siam during his stay as a missionary during 1685-1686.
Dimensions:
Approx. 165mm high x 102mm wide x 30mm deep