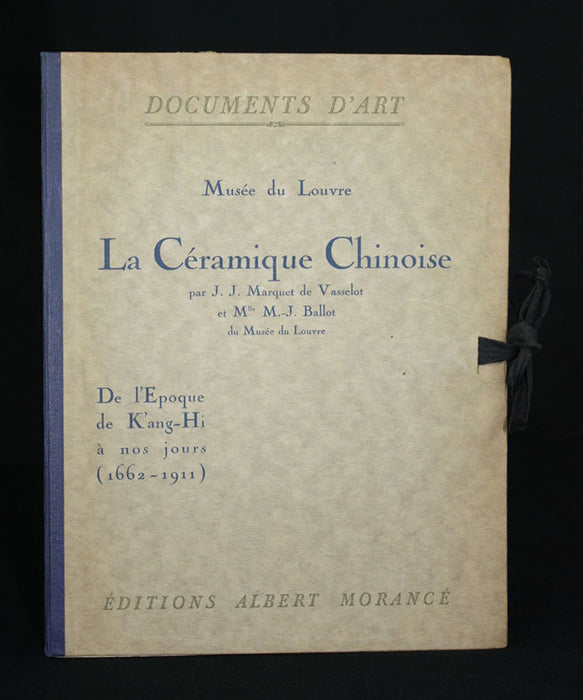 La Ceramique Chinoise, Documents D'art Musee du Louvre, par J J Marquet de Vasselot and Mlle M-J Ballot, 1922
La Ceramique Chinoise, Documents D'art Musee du Louvre, par J J Marquet de Vasselot and Mlle M-J Ballot, 1922
De L'epoque de K'ang-Hi a nos jours (1662-1911).
RECENTLY SOLD : PLEASE LET US KNOW IF YOU WOULD LIKE TO BE INFORMED IF WE GET ANOTHER COPY
1922, French language first edition.
By J J Marquet de Vasselot, Conservateur-Adjoint and Mlle M-J Ballot, Attache au Musee du Louvre
Editions Albert Morance. A rare edition.
Card wrap with ribbon, marbled inner covers, plus 36 page booklet and 44 separate plates (all present). Near fine condition. Really exceptional condition for a loose set such as this which normally has much greater wear than this. Booklet clean and bright with a few pages still uncut. Plates very attractive. Minor wear to ribbon tie.
Dimensions (outer cover):
240mm high x 185mm wide x 22mm deep