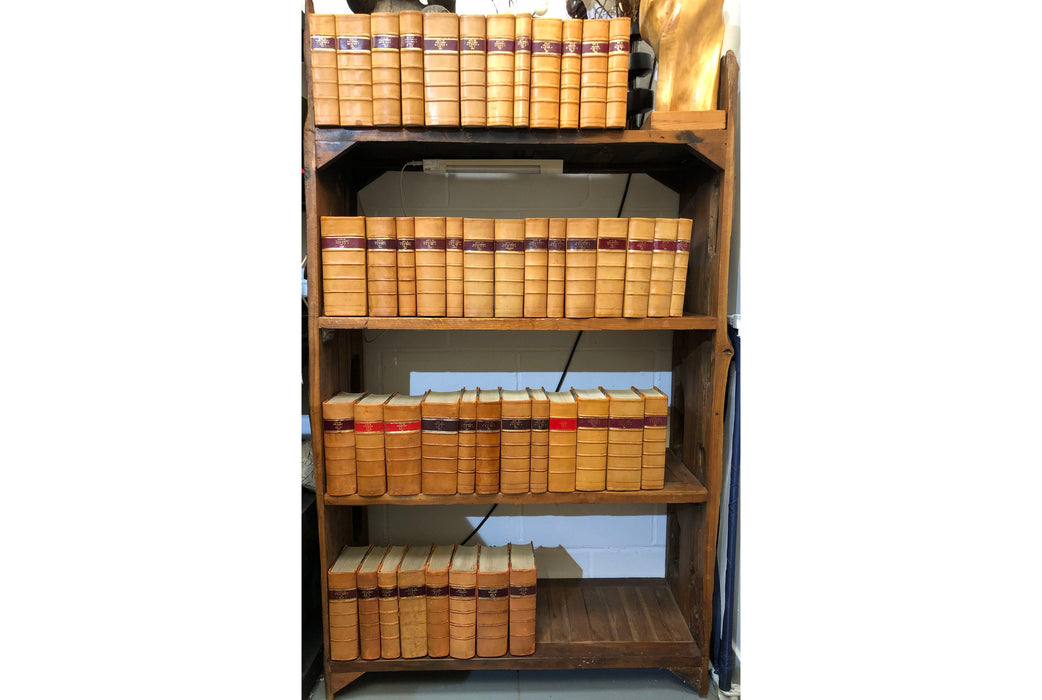 Large Collection of 46 Leather bound Acts of Parliament, 1952 - 1979
Large Collection of 46 Leather bound Acts of Parliament. Ranging from 1952-1979, these 46 Volumes feature The Public General Acts and General Assembly Measures, with Lists of the Public General Acts and Local Acts and a Table of the Effect of Legislation and an Index. This is a typical full title, but will vary along these lines from book to book.
SOLD
Published by Her Majesty's Stationery Office, London, 1952 - 1979.
This is a beautiful collection of half leather bound hardback books. Featuring brown leather spines and corner protectors. The spine with raised bands and burgundy/red and gilt title labels. Covers with marbled paper boards. Some books feature the binder's label of Jas. Lumsden, Son & Co, Account Book Makers of 141 Bath Street in Glasgow.
Normally such volumes tend to have standard library cloth bindings, so it is exceptional to have this wonderful collection. Sets like this tend to be found only in institutional libraries, so this is a rare opportunity to purchase.
Overall condition is very good - the leather on some of the older volumes has more wear and one volume has one split external joint along the spine, but is still soundly bound. Some usage marks to text block edges, but text is generally bright and clean. Bindings are sound and internal hinges intact.
A really handsome set which would be of interest to those interested in political and legal matters, but also a fantastic decorator's set for building a library, set dressing or film prop use.
Dimensions: Approximate size, of each volume: 250mm high x 160mm wide.
Shelf space width required of approximately 3.1m. Wooden shelves in the photograph not included!
Substantial - the weight of each volume varies between approximately 1kg and 2.5kg each, meaning the total set is of substantial proportions and will weigh in the region of 75kg-80kg unpacked (estimate), requiring multiples boxes for courier delivery.

Note: Buyers outside the UK, please contact us in advance to get an accurate postage quote for this heavy set.
Sample postage costs:
Germany, Ireland, Netherlands: £100.00.
France: £120.00.  
Canada and USA: £500.00.    
Japan: £675.00.  
Australia: £850.00.    
New Zealand: £900.00.