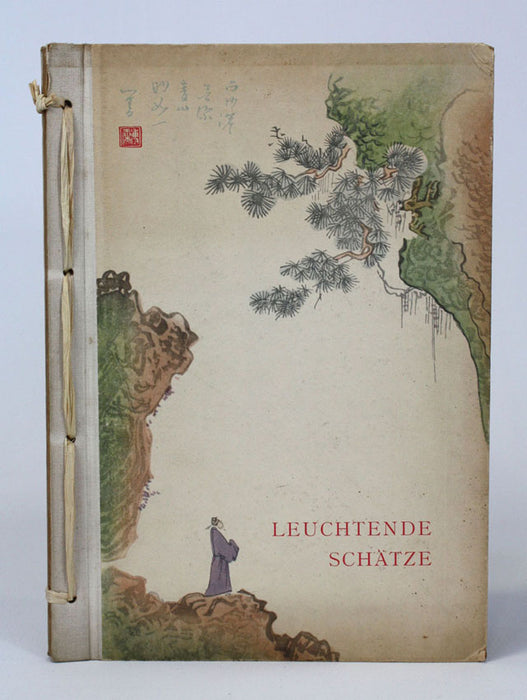 Leuchtende Schatze Aus der Werkstatt Jung Pao-Dsai by Von Alex Wedding, 1st edition 1957
Leuchtende Schatze Aus der Werkstatt Jung Pao-Dsai by Von Alex Wedding, 1st edition 1957
SORRY - RECENTLY SOLD
Leuchtende Schatze Aus der Werkstatt Jung Pao-Dsai, which translates to Bright Treasures from the Workshop of Jung Pao-Dsai, text by Von Alex Wedding.
Published Alfred Holz Verlag. Berlin, 1957, 1st edition.
Beautiful book of Chinese colour woodcuts and poetry. German language plus Chinese text to front and rear inside covers and first free endpaper. Chinese annotations also on woodcuts.
Very good condition overall. Some bumping to corners and a little fading, but very nice indeed.
Cover is constructed from printed paper over thick boards with cloth binding at spine. Block bound with 4 holes and tied with natural rafia like ribbon.
Unpaginated, but contains 488pp and featuring 21 coloured woodcut images. Paper is bound Chinese style, each leave folded back on itself and held by the ribbon tie, which means no ink show through from the images.
Dimensions:
Approx 30cm high x 21.3cm wide x 1cm deep.