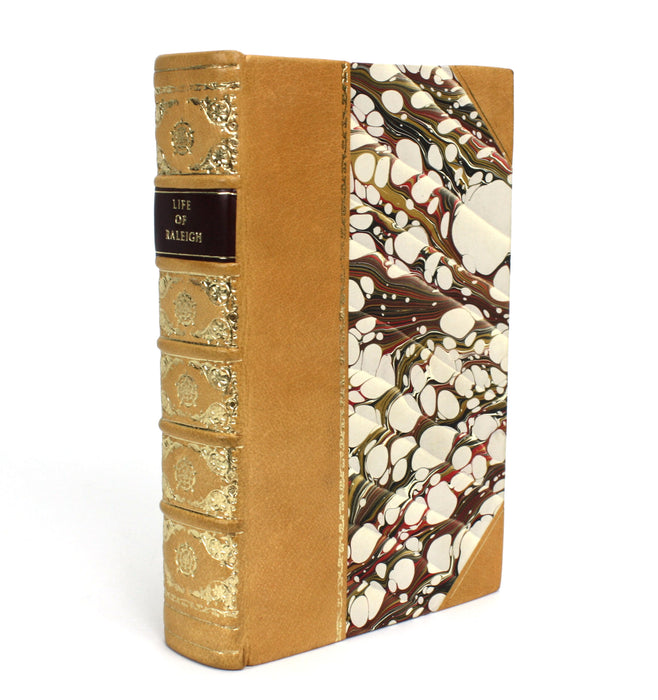 Life of Sir Walter Raleigh, Patrick Fraser Tytler, 1833
Life of Sir Walter Raleigh: Founded on Authentic and Original Documents, Some of them Never Before Published: Including A View of the Most Important Transactions in the Reigns of Elizabeth and James I.; Sketches of Burleigh, Essex, Secretary Cecil, Sidney, Spenser and other Eminent Contemporaries: With a Vindication of his Character from the Attacks of Hume and other Writers. By Patrick Fraser Tytler. With portraits, seals, and autographs, by Horsburgh, Jackson, and Bruce.
SOLD
Published by
Oliver & Boyd, Edinburgh. 2nd edition, 1833.

This is a handsome copy in a fine binding, which would make an attractive addition to any library. The book has been completely rebound in three quarters leather, with marbled boards, and raised bands and gilt decoration to spine. The contents are soundly bound inside. Frontispiece of Sir Water Raleigh, with original tissue guard.
Text is near fine - there is staining and foxing to the frontispiece leaf and tissue guards are foxed. Otherwise text is lovely and clean throughout. There are only a few of the text pages which have some age foxing, but really a very attractive copy of an uncommon book.

468pp.

Dimensions: Approximately 175mm high x 115mm wide x 37mm.