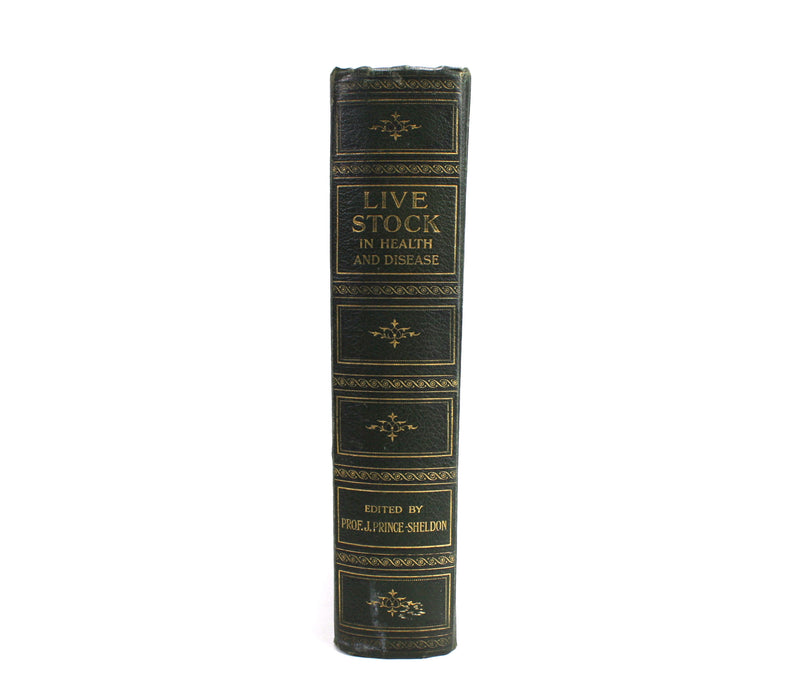 Live Stock in Health and Disease, J. Prince-Sheldon, Special Edition
Live Stock in Health and Disease; The Breeding and Management of Horses, Cattle, Sheep, Goats, Pigs, and Poultry, with chapters on Dairy Farming, and a full and detailed Veterinary Vade-Mecum by A. H. Archer, M.R.C.V.S. edited by Professor J. Prince-Sheldon, with twenty-four coloured and sixteen plain plates.
SOLD
Published by Cassell and Company. Limited. London, Paris, New York & Melbourne. Special Edition, available only to Subscribers. Undated, but c. 1902 (there is reference to some 1901 statistics in the text, so must be following that).
A very comprehensive volume on the subject.
A good copy. Green hardback with gilt. Cover marked and rubbed. Foxing to endpapers. Worn gilt pages edges. Heavyweight contents slightly shaken in binding. Text is good throughout and colour plates retain brightness.
Bound in Subscription slip + xi (including frontispiece and list of illustrations and plates) + 627pp.
Dimensions: Approx 280mm high x 225mm wide x 60mm deep.
A substantial volume; Weight: Over 3.1kg (unpacked).