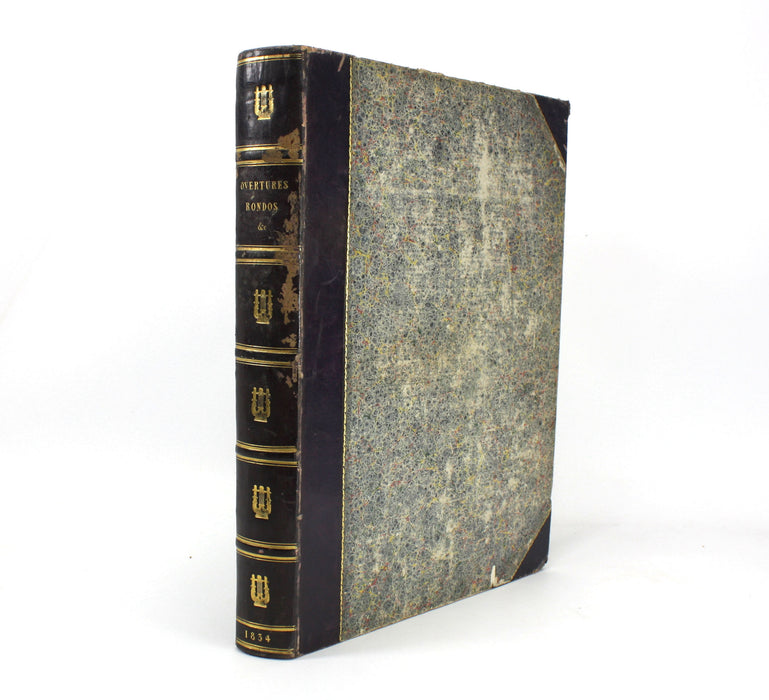 Original 19th Century Sheet Music Book, pre-Victorian era. Book M7.
We have recently acquired a collection of books of vintage sheet music. Whilst most of these don't have printed dates, there are annotations in various of the books, which all seem contemporaneous with each other. One book carries the publication date of 1809. Handwritten dates are listed on occasion to the 1830s, most likely placing the publication of the books to the times of George III (reigned 1760-1820), George IV (reigned 1820-1830), and King William IV in the UK (reigned 1830-1837); pre-Victorian era. The earliest handwritten date we have noticed is 1799. Acquired in Scotland. Please see individual listings for full details.

SOLD
Dated on the spine to 1834 in gilt and titled 'Overtures Rondos &c'.

Includes a selection of music including compositions by Beethoven (including Funeral March printed on blue paper), Mosceles, Rossini, Bellini and others. Includes A Russian Polonaise with printed image of Karzeneff.

Printed/Published in London and Paris.

A good copy - leather spine and corners with gilt decoration. Rubbing and bumping to covers. Marbled boards. First free endpaper opens with a detailed hand written list of contents.

Text in very good condition throughout with only light foxing. Soundly bound. Pages sequentially hand numbered to p. 296. A scarce music book of this era.
Dimensions: 
Approximately 344mm high x 260mm wide x 38mm deep.
Weight approximately 2.36kg unpacked.