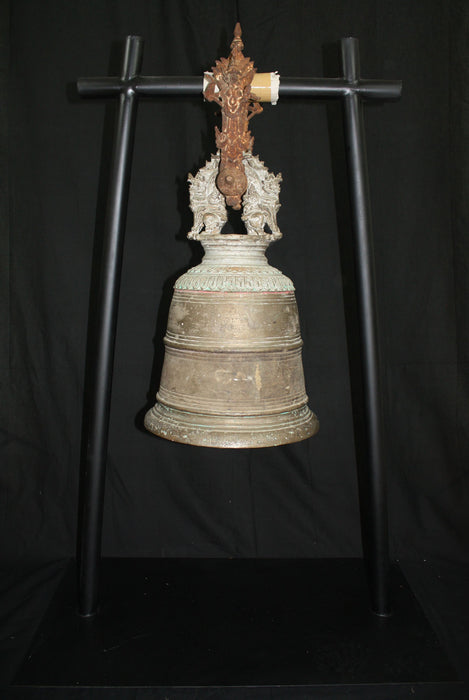 Original Burmese Bronze Temple Bell, large size, 19th Century
Burmese Bronze Temple Bell, large size, 19th Century
SOLD
Wonderful large scale bronze temple bell from Burma.
Size:
Diameter of bell approx 38cm, height = 64cm
Supplied with stand, height = 130cm.
Length of suspension bracket = 39cm.
This elegant bronze bell features a pair of chin-thei (lions) guarding the holding ring.
The suspension bracket is made from cast iron as is commonplace for these items. Above the ring on each arm of the bracket is a kinnara (male) on one side, and a kinnaree (female) on the other side. These gentle bird/human creatures are completely devoted to each other. For a similar example see Emerald Cities - Arts of Siam and Burma, 1775-1950, p86.
About Burmese temple bells:
Bells are second only in importance to Buddha images as donations to a pagoda in Burma. They are struck with a wooden mallet (sometimes a deer antler) and great importance is placed on the sound.
The bell is rung by worshippers after making their devotions to Buddha - struck three times to announce their actions and share merit amongst all. Other watchers may shout thadu, thadu, thadu which means well done, well done, well done.
Bells are cast with great ceremony and the bronze/copper alloy construction is typically 83% copper and 17% tin. In important bells, sometimes iron chains were added into the cast for strength or gold jewellery added towards the end of the process leaving small yellowish streaks in the finished bell (ref: Fraser-Lu, Burmese Crafts Past and Present p132-134 - an excellent work for those interested in Burma).
Large bells like this do not often come up for sale in the West.
Note: Please contact us in advance of purchasing to discuss delivery options as this is a heavy item.