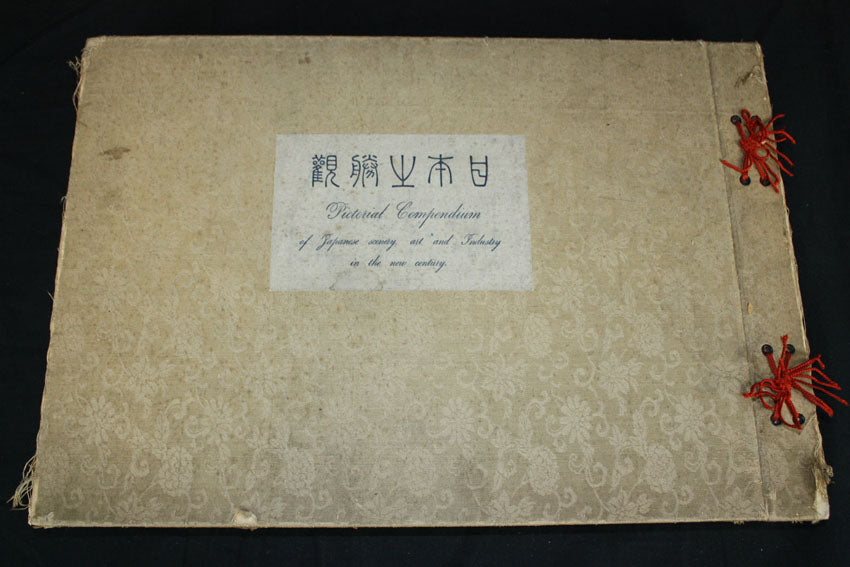 Pictorial Compendium of Japanese Scenery, Art and Industry in the New Century, compiled and published by Takakura Choko, 1904
Pictorial Compendium of Japanese Scenery, Art and Industry in the New Century, compiled and published by Takakura Choko, 1904
SORRY - RECENTLY SOLD
日本のアンティーク写真集
Nippon Chishi Hensanjo, Tokyo, 1904.
Beautiful photographic record of Japan at the turn of the Century containing many printed photographic plates. A really wonderful book.
Silk covers over boards with red ties. Gilt edges to text.
Approx. 38cm long x 26.5cm high x 3.5cm deep. 
Text in both English and Japanese.
Approx 400 unpaginated pages containing 212pp plates.
Silk is a gold brocade pattern with some wear and fraying to edges. Red ties are knotted around 2 four hole hinges. Cover has a printed white cloth label with some spotting. Label is titled in Japanese and English.
Text very good overall. Some creasing and wear to endpapers and slight age discoloration to edges. Minor tear (not affecting picture) on last plate.
Foreword by F Brinckley, 1903, who mentions the publishers of Nippon no Shokwan and praises the quality of this volume highly.
Very scarce volume - Worldcat only cites one other library copy worldwide (in USA).