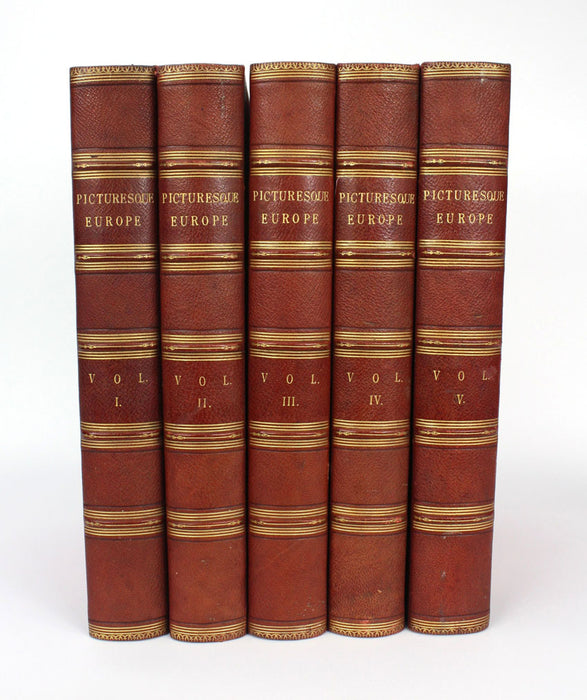 Picturesque Europe, Cassell, 5 Volume Set, Complete
Picturesque Europe, Cassell, 5 Volume Set, Complete, Henry Sotheran binding
Picturesque Europe, with Illustrations on Steel and Wood by the Most Eminent Artists
RECENTLY SOLD
Published by Cassell, Petter and Galpin, (Cassell and Company Ltd), undated but presumed 1st edition 1876. We believe the volumes were released in stages between 1876 and 1879.
This is a truly splendid half leather (possibly chagrin) set of these 5 lovely volumes; 2 on The British Isles and 3 on Europe. These volumes contain a small booksellers and binders label at the back from Henry Sotheran and Co, London.
All 5 volumes are tightly bound with no signs of weakness.
The covers are very good overall. Spines have raised bands and gilt lettering. There are signs of shelf wear and some small losses to the cloth and leather (please see photographs). All 5 volumes are in very similar condition. Inside there are marbled endpapers and marbled edges to the pages. The interiors of the books are in fine condition overall. The quality of the engravings is very high indeed. A handsome set despite the cover wear.
Each volume is of large size. Folio, approx. 330mmhigh x 260mm wide x 50mm deep. Approx 300p per volume. Each volume also weighs around 3.4kg, making this is a substantial set.