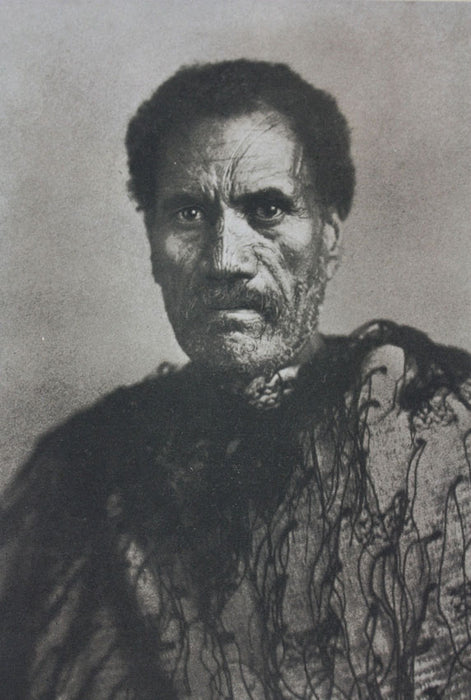 Portraits of Tattooed Warrior Chiefs of New Zealand, Victor R Millard, 1942
Portraits of Tattooed Warrior Chiefs of New Zealand, Victor R Millard, 1942
RECENTLY SOLD
Privately Published by Victor Millard, Auckland, New Zealand, 1942. Presumed 1st edition.
An interesting and scarce folio-style work, featuring The Millard Collection, a beautiful collection of 10 striking images of Maori chiefs;
Mohi, Taketake, Tomati Pirimi, Hirawanu, Terewi, Tamarere, Rewi Maniapoto, Wharekauri, Petera Te Tuhi and Hiruharama.
There is also an Introduction and Biographical Notes of The Chiefs.
Textured card covers + 1pp introduction + 10pp photographic plates + 2pp Loose leaf Biographic Notes + 1pp Quotations from Institutions taking delivery of this set.
Covers are worn and soiled, with rusted staples. Text and plates are very good - all nice and clean and their edges have been protected by the slightly larger outer covers.
Dimensions: approx 29cm high x 22.5cm wide.