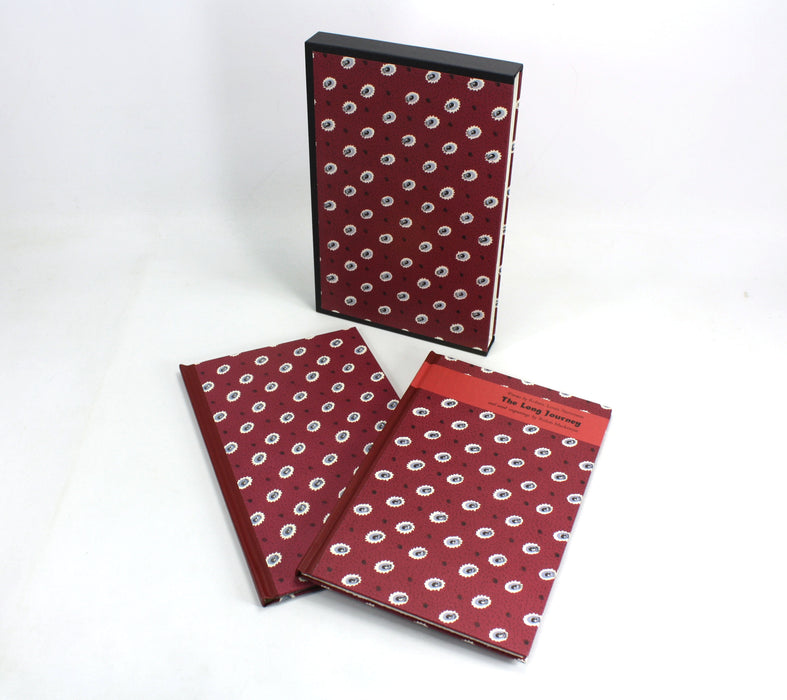 Robert Louis Stevenson - The Long Journey, Incline Press. Signed, limited edition. Private Press.
The Long Journey; Poems selected from A Child's Garden of Verses : Ballads : Underwoods : & Songs of Travel.  By Robert Louis Stevenson. With Wood Engravings by Robin Mackenzie.
SOLD
Published by Incline Press, Oldham, 2014. Private Press. A special edition with slipcase comprising the book, numbered '89' and signed by Robin Mackenzie, who produced the wood engravings, and Graham Moss, of Incline Press, who did the binding. The set also includes a matching portfolio of 7 black prints of the wood engravings. Forty such sets like this were produced.
A fine, as new, copy. Handbound using an original Curwen Press decorated paper designed by Sarah Nechamkin. The book and folio are hardbacks with burgundy cloth spines. The stiff card slipcase with black cloth edging. Beautifully produced, and printed on excellent quality 160gsm Zerkall paper. Signature page at rear.
The beautiful letterpress book has 32pp which include the woodcuts, some coloured. The folio has 7 woodcut prints. 
Dimensions: 295mm high x 189mm wide x 30mm deep (in slipcase).
Text in English.

Weight: approximately 442g (unpacked).