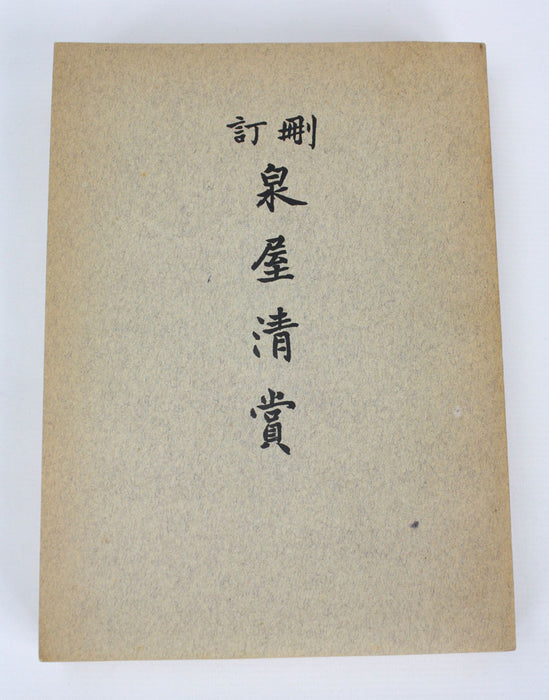 Sen-oku Sei-sho Collection of old bronzes of Baron Sumitomo, 1934
Sen-oku Sei-sho Collection of old bronzes of Baron Sumitomo, 1934
also known as:
Description of Ancient Chinese Bronzes in the Collection of Baron Sumitomo, 1934.
SOLD
Preface by Dr Torajiro Naito, General Introduction to first section (Bronze vases et al) by Dr Kosaku Hamada and Epilogue by Baron Kichizaemon Sumitomo
Very desirable book; very scarce. New and revised edition (the first edition in this form), published in Kyoto, Japan 1934. A very important work.
Book consists of:
Original outer card slipcase in fair condition. Printed in black on front and spine. 
Original onion skin dustjacket in good condition for age. Unprinted with minor wear and tearing at edges and expected age discoloration.
Main book volume very good overall, but showing signs of age and spine beginning to crack. Unnumbered pages, but a thick volume packed with wonderful plates of the bronzes. Textured card cover printed on front and spine. No bookplates, no owner's signatures nor annotations throughout. 29 printed pages at the rear of the volume are in English listing contents and brief descriptions of 340 bronze objects in the collection (though contents seem to indicate book covers 410 objects). These span vases, ceremonial vessels, tools and weapons, miscellaneous objects, Buddhist statuettes, mirrors from Han to Six Dynasties, Copies in Ancient Japan, Sui and T'ang mirrors, and Japanese mirrors.
Dimensions (of outer slipcase): 262mm high x 195mm wide x 31mm deep.
 貴重な日本の美術本