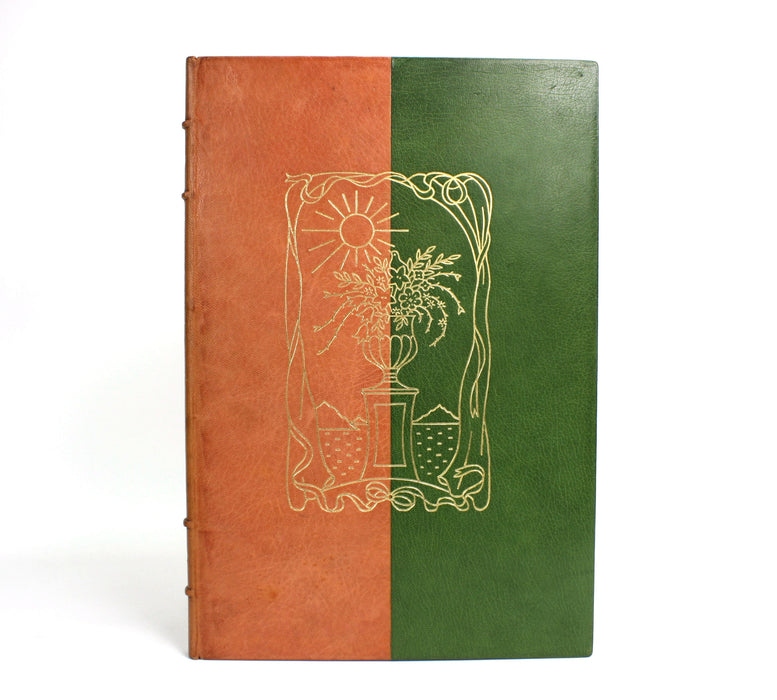 Songs and Poems of John Dryden, Golden Cockerel Press deluxe limited edition, 1957
Songs and Poems of John Dryden, Chosen and Introduced by Gwyn Jones. Drawings by Lavinia Blythe.
SOLD
Published by The Golden Cockerel Press, 1st edition. 1957. Numbered Limited edition - this is No. 50. from the first 100 copies of this edition which were issued with an extra set of eight pictures and eight of the drawings, and leather bound. The full edition was of 500 copies, with the other 400 copies having simpler covers of cloth and leather.
John Dryden was England's first Poet Laureate, his life and work done in the 17th Century.
Issued in cloth covered slipcase, with the set of 16 prints housed in a green card envelope. The book has been hand-bound in full leather by Sangorski and Sutcliffe. The rag-paper used in the book was specially made by T.H. Saunders & Co. Text hand-set and printed by the Chiswick Press.
A near fine copy of this wonderfully produced set. The binding is beautiful in a mixture of green and tan lathers, with 4 raised bands to spine. Gilt to both front and rear covers and title to spine. Some small marks, but a very nice example indeed. The endpapers and first few pages at extremities of book have slight discoloration to the edges, which is aged colour transfer from the leather binding. Text is immaculate, without marks or creases, nor any inscriptions. Binding is completely sound.
Outer green cloth slipcase is lightly soiled in places, with all seams remaining intact and solid.
All 16 prints are housed in the green card envelope slipcase, which has some soiling. Pink tissue guards are all present, but a little creased in places.
64pp + plates. With set of 8 x coloured prints and 8 x drawings, plus 4 x pink tissue guards, all as called for.
Dimensions: Large folio size. Approximate size, in slipcase: 390mm x 260mm x 30mm. Substantial - weighs approximately 2.4kg unpacked.