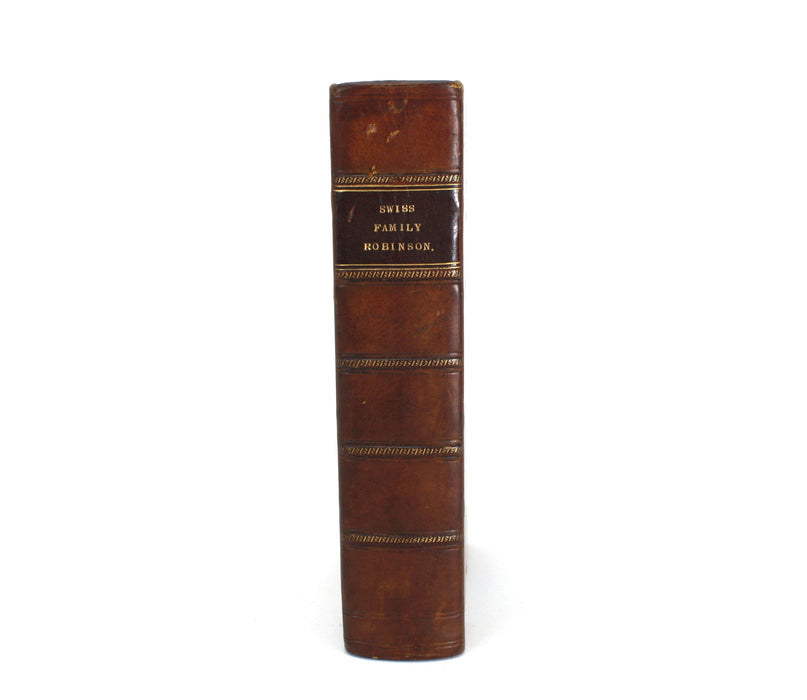 Swiss Family Robinson, by J.R. Wyss, 1855
The Swiss Family Robinson; or, Adventures of A Father and Mother and Four Sons in A Desert Island. New edition, Combining the First and Second Series, Illustrated with Notes and Engravings. By Johann David Wyss (uncredited in this edition). J.R. Wyss is written in pencil to title page (removable).
SOLD
Published by Simpkin, Marshall, and Co.; Whittaker and Co.; Houlston and Stoneman; and Sampson Law and Son, London, 1855. A scarce edition. The novel was first published in 1912, and has been adapted and filmed many times.
A very good hardback with leather spine and corners, with marbled paper over boards. A handsome volume. A few small scratches to the leather at the head of spine and general rubbing to boards. Bound by Maclehose of Glagow.
Text is is nice and clean throughout with some foxing to endpapers and occasional age spotting to text. No owner's signatures or bookplates. On p.496-497 there is around a 1cm spot where there is some damage to the text where 2 pages have become stuck together at some point, but having no significant impact on the attractiveness of this volume.
Dimensions: Approximately 167mm x 110mm x 37mm.
viii + 525pp + plates (illustrated with frontispiece + map + 7 plates).
Weight approximately 472g unpacked.