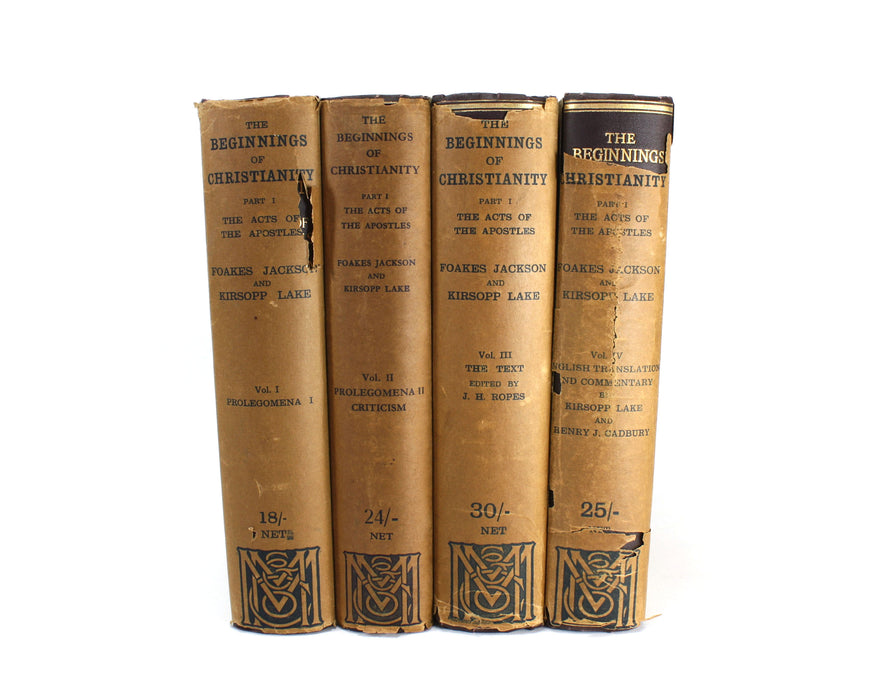 The Beginnings of Christianity; Part I; The Acts of the Apostles, F. Jackson and K. Lake, 4 volume set, 1920-1933
The Beginnings of Christianity; Part I; The Acts of the Apostles. Edited by F.J. Foakes Jackson, D.D. and Kirsoff Lake, D.D. 4 volume set
SOLD
Set comprises;
Vol. I: Prolegomena I; The Jewish, Gentile and Christian Backgrounds. 1920. x + 480pp.
Vol II: Prolegomena II; Criticism. 1922. xiv + 536pp + 1pp + 4pp.
Vol III: Prolegomena III; The Text of Acts by James Hardy Ropes, 1926. cccxx + 464pp.
Vol IV: English Translation and Commentary by Kirsopp Lake, D.D., D.Litt. and Henry J. Cadbury, Ph.D., 1933. xi + 420pp + 1pp + 2pp.
Published by Macmillan and Co., Limited, London, 1920 - 1933, all 1st editions.
A very good set of burgundy cloth hardbacks (a very dark burgundy, almost black). Some mild corner bumping. Dustjackets are discolored and nibbled and paper is very brittle with age. Volume 4 dustjacket is split vertically down the spine.
Text is bright and clean. Volume I features a map with a loose printed glassine overlay. Text pages uncut as issued.
Text in English (with Greek).
Weight: Approximately 3.82kg (the set - unpacked).