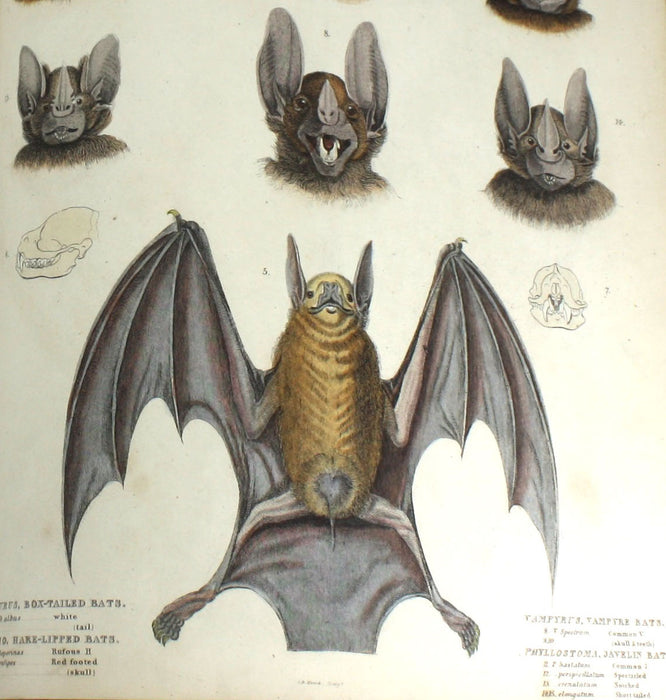 The Edinburgh Journal of Natural History, The Animal Kingdom of Baron Cuvier, 1835-1839, William Macgillivray
The Edinburgh Journal of Natural History, and of the Physical Sciences. Conducted by William Macgillivray, A. M., assisted by several Scientific and Literary men. Volume I, A.D. 1835-1839, followed by The Animal Kingdom of Baron Cuvier, also 1839, then all the coloured plates as the final section.
SOLD
Published for the Proprietor, 13 Hill Street, Edinburgh. Also locations in Glasgow, Aberdeen, Manchester, Leeds, Dublin and Paris (J. B Balliere) and London (Smith, Elder & Co.), 1839. Presumed 1st edition thus.
This substantial hardback volume had been bound with leather corners and spine with printed paper boards. Spine is now missing, but book is still bound. Covers are heavily worn and bumped. Bookplate to first pastedown of 'S. Leigh Taylor'. The first 16 or so pages have substantial foxing with remaining text in very good condition - nice and clean with only occasional age spotting. Gilt edges to text block. Plates are very good with just minor age discoloration. Occasional nick to page edge.
This is a very scarce volume, with the principal attraction being the coloured plates, which are truly outstanding. Not only are they very high quality images, but the depictions and subject matter are far from common and really rather splendid. It is rare to find text and plates together and this volume has usually been disbound to sell the plates separately.
Comprises:
Text: The Edinburgh Journal of Natural History, Volume I; A.D. 1835-139 (runs from Oct 1835 - March 1840), followed by Index to the Journal and List of the Woodcuts.
Text: The Animal Kingdom of the Baron Cuvier, enlarged and adapted to the present state of Zoological Science. Also dated 1839. (this effectively is the 2nd volume).
Colour Plates: Many stunning full page coloured plates follow the text section. A manual count reveals there are 114 pages of Plates in total..
The Vol 1 index for the plates comprises;
Mammals: 35 plates (230 figures),
Birds: 48 Plates (302 figures),
Molluscs: 2 Plates (35 figures);
Insects: 2 Plates (32 figures).
In all 87 plates for Vol. 1 with 597 figures included. There is no detailed second index for the additional plates.
Dimensions: Approximately 349mm high x 245mm wide x 45mm deep.
Weight: Approximately 2.72kg.