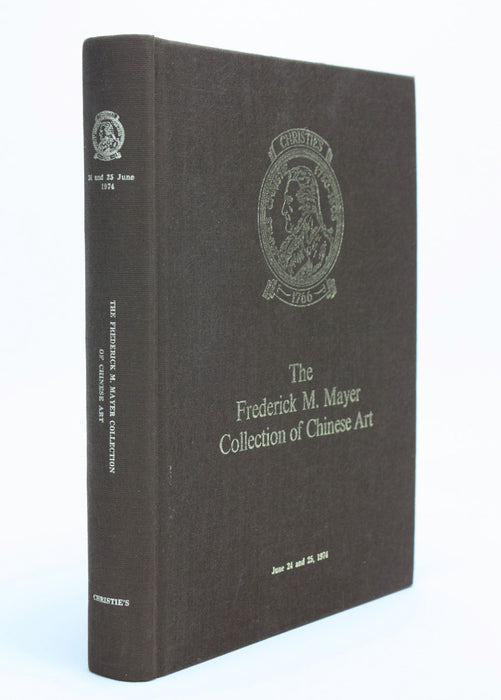 The Frederick M. Mayer Collection of Chinese Art, Christies catalogue, 1974
The Frederick M. Mayer Collection of Chinese Art, June 24 and 25, 1974.
SOLD
Christies auction catalogue, 1st edition.
Magnificent hardback auction catalogue with brown cloth cover and gilt cover and spine.
A scarce and highly sought-after catalogue of an extremely important collection of Chinese art.
This book is in fine condition. Only flaw is a white mark around 1cm long to the top vertical edge of the front cover (see photo), but otherwise in fine condition. Corners remain crisp and unbumped. Binding sound and text flawless.
A wonderful addition with this volume is copy of the realised price list (4 page), priced in both guineas and dollars. This carries a pencil annotation with the name of an ex-Christies director, and not only features the prices but the names of the buyer of every lot. On the reverse is the pencil annotation "100%!", indicating that, very unusually, every lot found a buyer, and a total sale value of £2,673,027 ($6,415,265).
Front and rear inner covers feature a map of China showing principal early kiln sites.
This catalogue is profusely illustrated throughout featuring 273 plates (80 in colour). 382pp. Includes some fold-out plates. Yellow cloth page ribbon.
Dimensions:
24.8cm high x 20.2cm wide x 3cm deep.