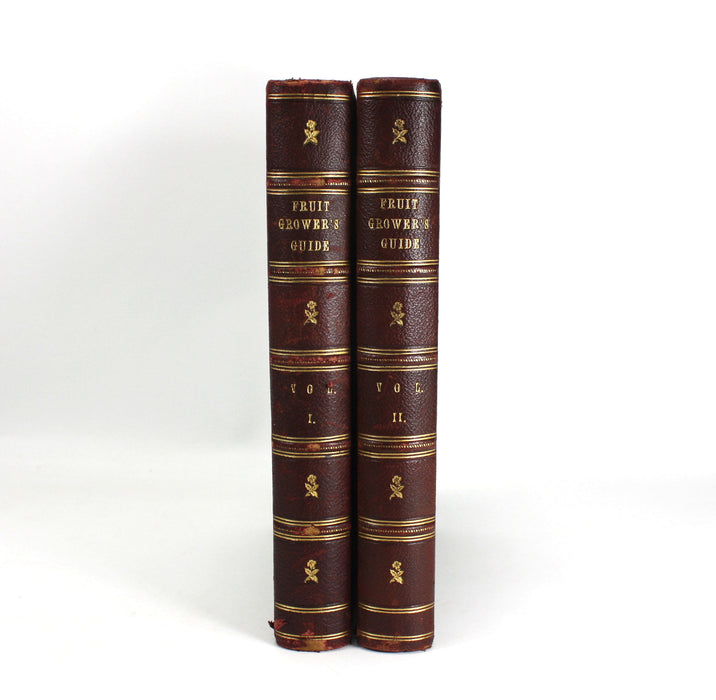 The Fruit Grower's Guide, John Wright, 2 volumes, 1892
The Fruit Grower's Guide by John Wright, F.R.H.S. with coloured illustrations by Miss May Rivers. In two volumes (from 3).
Published by J. S. Virtue & Co., Limited, London. 1892 (undated, but the Preface by J. Wright is dated March 1st, 1892. We believe this to be the first edition.
A very good set of 2 volumes (from 3), which are scarce to find (many of these books were taken apart for the plates to be sold separately). Half leather hardbacks with raised bands and gilt. Burgundy leather and cloth. Covers are scuffed and shelfworn, but binding is completely sound.
Text pages are very good throughout - nice and clean with only occasional foxing and spotting to endpapers. With marbled edges to text block. Tissue guards to frontispieces.

A very attractive set overall due to the many beautiful colour plates contained within. This publication is more commonly found bound as smaller cloth hardback 'Divisions'. For these 2 Volumes there would have been 4 Divisions. These 2 volumes published as larger volumes as denoted on the title pages.
The set comprises: 
Vol. 1: xii + 344pp. Contains 13 Coloured Plates and 108 illustrations in text.
Vol. 2: viii + 344pp. Contains 16 Coloured Plates and 109 illustrations in text.

Dimensions: Approximate size, of each volume: 285mm x 232mm x 45mm.
Substantial - set weighs around 4.1kg unpacked.
See other Lanna Antique listing for companion volumes in the Flower Grower's Guide.