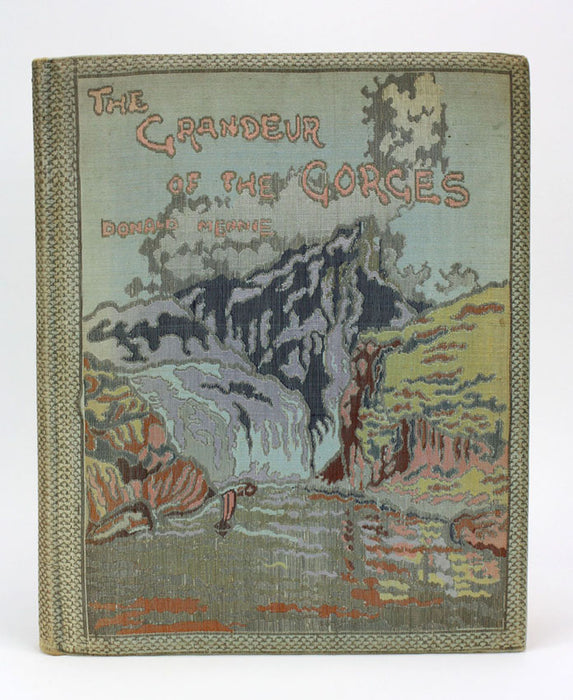 The Grandeur of the Gorges by Donald Mennie, signed 1st edition
The Grandeur of The Gorges by Donald Mennie, signed 1st edition
RECENTLY SOLD
Fifty Photographic Studies, with Descriptive Notes, of China's Great Waterway, the Yangtze Kiang, Including Twelve Hand-Coloured Prints
Published by A S Watson & Company (The Shianghai Pharmacy Ltd), Kelly & Walsh, Limited, Shianghai, 1926
This is the scarce first edition of this wonderful book, a numbered limited edition 272/1,000.
The outer cover features a fabulous woven silk tapestry of a Gorge scene in eleven colours. The front cover is near fine with just the occasional mark and loose silk thread, and the rear cover which is largely plain blue silk, except for a Chinese character mark, is very good, with mild soiling, minor age fading and shelf wear.
The interior is in fine condition - some spotting to endpapers and the occasional spot to text pages, but very beautiful indeed.
The first free endpaper has been signed by the author in 1928.
Pages are unnumbered and on a heavy uncut ivory stock. xi + 50 spreads featuring a text description adjacent to a tipped on plate. There are 50 plates in total, 12 of which are handcoloured. The hand coloured plates may be silver halide, but we cannot identify for sure. There is a small (1.5cm tear to the edge of the final plate mounting page (not affecting text or plate).
As well as being a stunning book it has gained particlar importance due to the controversial completion of The Three Gorges Dam in 2012, which caused large scale flooding and permanent environmental change to the area. This early photographic record of Mennie has new significance.
Dimensions:
32.2cm high x 27cm wide x 3.3cm deep