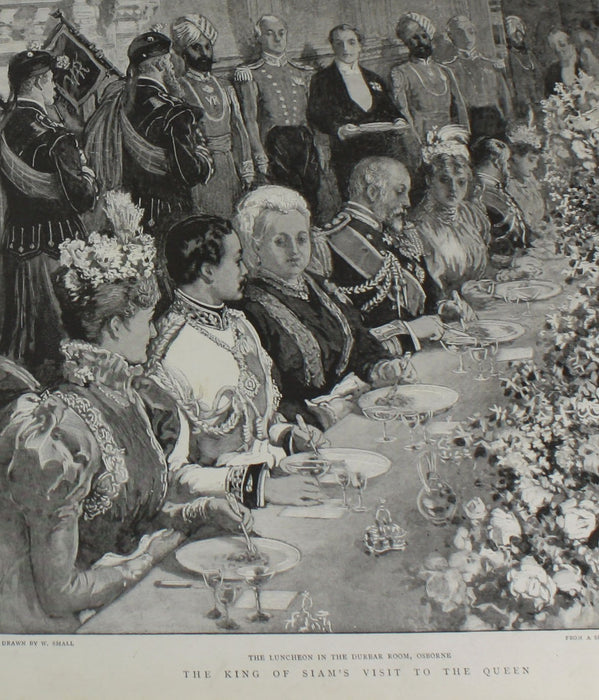 The Graphic; An Illustrated Weekly Newspaper; Volume 56, July - December 1897. King Rama V of Siam.
Save

Liquid error (snippets/product-badge line 32): Computation results in '-Infinity'

%
The Graphic; An Illustrated Weekly Newspaper; Volume 56, July - December 1897. A bound set of 6 months of The Graphic magazine in a typical library binding.
The Graphic was a British illustrated newspaper issued weekly, which ran from 1869 to 1932. The Graphic contained fantastic quality engravings, by many of the leading artists and illustrators of the day, and the writing was of an equally high standard, notably including George Eliot, Thomas Hardy and Anthony Trollope. It covered many topics including News home and abroad, The Arts, Sport, Legal cases, and 'Amusements'.
Even to those unfamiliar with the title, you will almost certainly have seen its pages grace the film sets of many a Victorian drama. It provides a fascinating insight into the way the British middle and upper classes viewed the world in Victorian times - very much a product of 'The British Empire'. The images are beautiful and the advertisements depict a bygone age. The publication is often used by researchers to provide information about life in the Victorian and Edwardian eras, leading into the early part of the Modern era.
Issues of The Graphic are surprisingly uncommon, as so many have been completely pulled apart in order to sell individual images, so it is lovely to find a large run like this.

Published by The Graphic Illustrated Weekly Newspaper, London, 1897.

Large format hardback bindings with cloth covering. Covers are heavily worn - bumped and rubbed with some splitting to outer hinges and inner joints, making a loose binding (which is not unusual for volumes of this weight). Inside, most of the text pages are actually very good. They are generally clean and in nice condition for a weekly of this age. There will be flaws - occasional page tears, foxing, stamp, creasing or loose page, but still a wonderful item to have.
Of particular interest to our clients with interest in Thailand, would be the issues featuring King Chulalongkorn's (จุฬาลงกรณ์, King Rama V, 20 September 1853 – 23 October 1910) visit to Great Britain. He is featured in 2 front covers, with a number of additional supporting pages.
These are scarce issues. 844pp + some unnumbered Supplementary plates + 3pp of Supplements at the rear.

Weight - A substantial Volume weighing approximately 7.9kg unpacked.
Dimensions - The volume is approximately 410mm high x 315mm wide x 70mm deep.