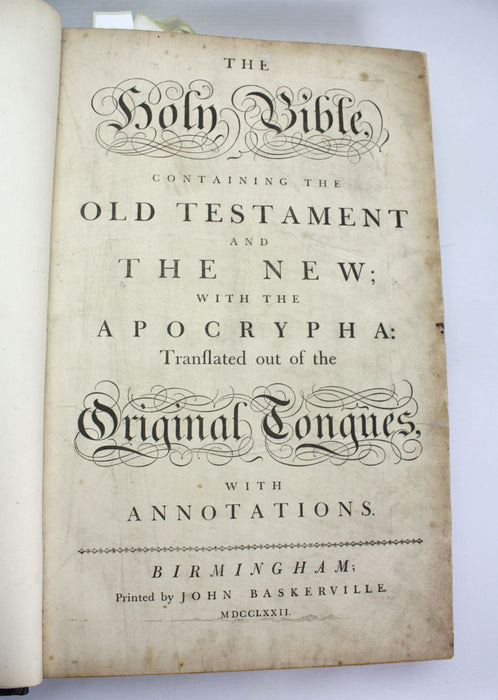 The Holy Bible, Baskerville 1772
The Holy Bible, Containing the Old Testament and the New; with the Apocrypha: Translated Out of the Original Tongues, with Annotations.
SOLD
Published and Printed by John Baskerville, Birmingham, 1772.
Large folio, of the Baskerville masterpiece. A very good copy overall. Covers are probably Victorian and the Bible has been professionally restored with the spine rebacked on black calf. A very professional restoration with new marbled end papers. A completely sound binding. Covers have general shelf wear and small indentations.
Text is generally very good with only light soiling and occasional foxing (particularly opposite plates). Contains 8 of the 10 plates, as called for by Gaskell. Missing frontispiece at the beginning and at the start of the New Testament (Plates opposite A1 and 10Y2). Carries 1772 date on the first title page and 1771 on the New Testament title page, as called for. Very occasional neat black ink outline - I've spotted this done on 4 pages in total. Worm hole to first 4 pages. Start size of around 10mm x 5mm then decreasing. Very occasional small edge tear to margins.
A very nice copy of a scarce text.
Dimensions: approx 425mm high x 280mm wide x 70mm deep. A heavy volume weighing more than 6kg.