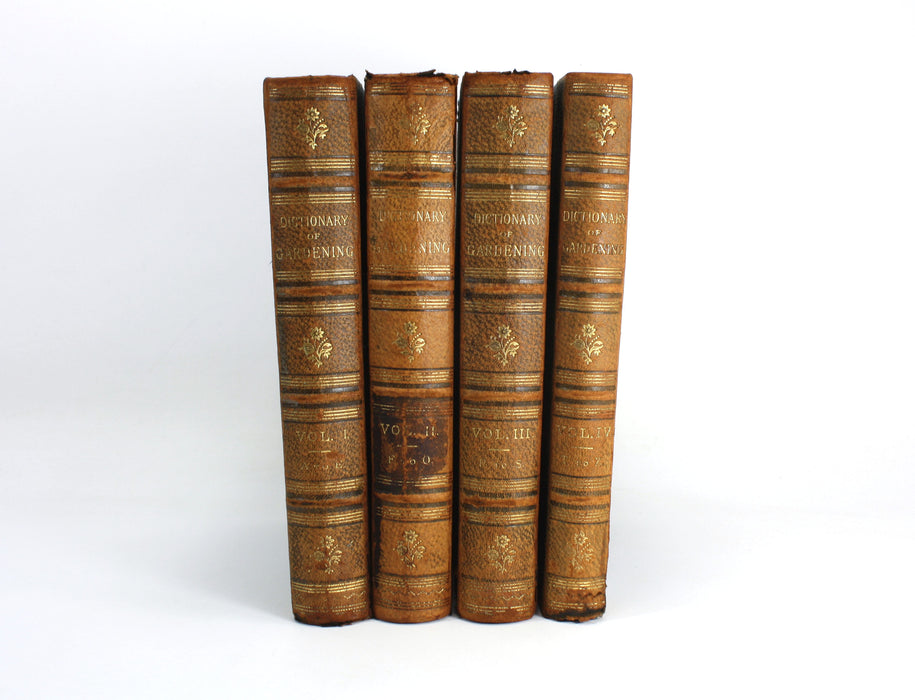 The illustrated Dictionary of Gardening, George Nicholson, 4 Volumes Complete with Supplement, 1885 - 1888
The Illustrated Dictionary of Gardening; A Practical and Scientific Encyclopaedia of Horticulture for Gardeners and Botanists. Four Volumes Complete (Volume IV includes the Supplement). Edited by George Nicholson, of the Royal Botanic Gardens, Kew.
Comprises;
SOLD
Vol I: A-E. Prelims + 543pp + Plates. 1885.
Vol II: F-O. Prelims + 544pp + Plates. 1886.
Vol III: P-S. Prelims + 533pp + Plates. 1887.
Vol IV: T-Z. Prelims + 250pp + 251-400pp (Supplement) + Plates. 1888.
Overall, there are 2 Black and white plates + 24 full colour plates, and intricate black and white illustrations throughout.
Published by L. Upcott Gill, London. 1885-1888. All dated editions - we think these are first editions thus.

A good set of hardbacks, each with blue textured cloth with gilt floral motif to front and gilt titles with raised bands on the leather spine, and has leather corners. Leather is worn and rubbed and sun faded to spine. Wear along hinges and rubbed to corners. Some marks and wear to cloth. 
Inside, marbled endpapers with strengthening tape to joint, with some splitting to tape, but all still bound. Text pages are in very good condition throughout - clean and bright, with very occasional age spotting. Feathered marbling to edge of text block.
A beautifully illustrated series of books. One of the very best 19th Century gardening series, which has greatly influenced following publications.

Text in English.
Dimensions: 
Each volume approximately 260mm high x 210mm wide and 30-39mm deep.
A substantial set - Weight approximately 6.1kg unpacked.