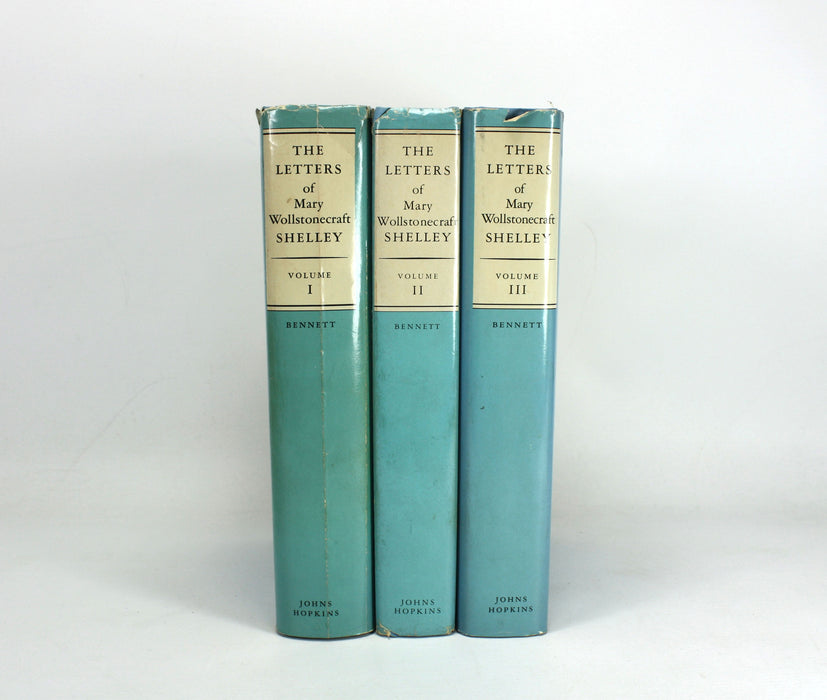 The Letters of Mary Wollstonecraft Shelley, 3 Vols, Betty T. Bennett, 1980
The Letters of Mary Wollstonecraft Shelley, 3 Volumes complete. Edited by Betty T. Bennett. comprising;
Volume 1: "A Part of the elect"; xlv + 591pp. 1980.
Volume 2: "Treading in Unknown Paths"; lii + 360pp. 1983.
Volume 3: "What Years I have Spent!"; li + 473pp. 1988.
Provenance; from the library of the late William St Clair (1937 - 2021), British historian, academic and author. His signature and pencil annotations can be found on the books, along with various interesting working documents/correspondence including reviews of the books he has written. Please see our other listings for related works.
Published by The John Hopkins University Press, Baltimore, Maryland. All first editions.

A very good set of blue linen hardbacks with gilt Mary W. Shelley facsimile signature to front and printed and gilt title labels to spine. Covers are nice and clean with some bumping to head and tail. Volume 3 spine slightly shaken. Complete with dustjackets - with a few nicks and some shelfwear. Volume 1 dustjacket is creased to spine and missing a 3.5cm x 2cm corner at the top front. Price sticker to Volume 1 inner flap. Pictorial endpapers illustrating actual letters of Mary W. Shelley.

Text is in near fine condition - some St Clair pencil annotations, which should be seen as an enhancement.
Weight approximately 2.8kg unpacked (the set).
Dimensions of each volume approximately 241mm high x 167mm wide x 35-45mm deep.