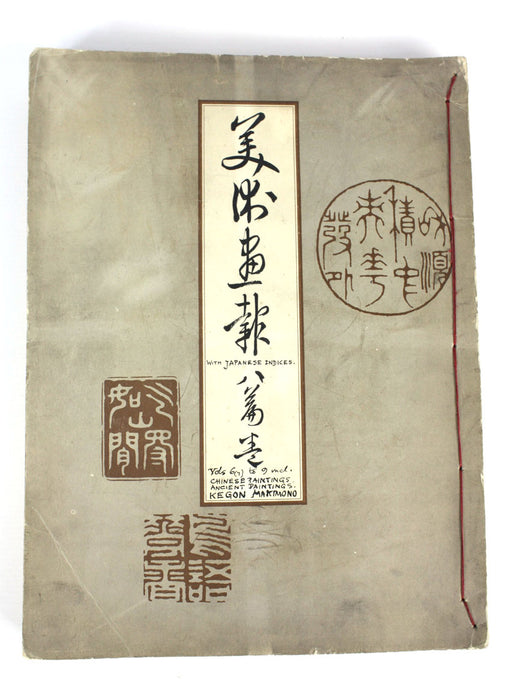 The Magazine of Art, Works of Old Masters, Japanese book, 1900, on Asian art including Chinese, Japanese and Tibetan paintings
Save

Liquid error (snippets/product-badge line 32): Computation results in '-Infinity'

%
The Magazine of Art, Works of Old Masters, Japanese book, 1900, on Asian art including Chinese, Japanese and Tibetan paintings
貴重な日本の美術本
Published by Gahosha, Nihonbashi, Tokyo, Japan, 1900.
Edited by Hoshino.
Published 20th October 1900, printed 17th October 1900.
A very attractive book in very good condition. Thread sewn printed covers. Some general shelf wear and minor pencil marks but very good overall. Binding is sound. The text pages are very good printed on a quality heavy paper stock.
Pages unnumbered but comprising approx. 49 pages of quality black and white plates. These appear to represent 12 pages of Chinese old masters, 1 Tibetan painting and 36 pages of Japanese painting - some are by unknown artists and some others may be Tibetan also.
These are then followed by approx 90 pages of Japanese text page - the inner title page also carrying English text.
The book features paintings by Chinese masters; Senshun, Emperor Kiso, Chochuboku, Saihakushi, Rikuhozan, Chosho, Joyeki, Chinyo, Kosen, Henbunshin, and Kyu-ei.
Work by Japanese artists includes calligraphy/writings/poetry by Jakuren Hoshi, Lord Gyosei, Onu Totu, Lord Sari, Ikkyu, Minamoto Toshiyori and Terumoto.
There is also painting by a number of unknown artists as well as Takuma Shokei, Nobuzane, Hidenobu, Kanaoka, Kasuga and Motumitsu.
There are also many beautiful plates from a pictorial roll named Kegon which appears to be of some importance. There are also plates from a historical roll named Shikisan by Nobusane.
The text indicates that this was intended as a regular publication and the cover annotation suggests this book comprises a number of volumes bound together in one book, described as Vols 6 to 9. The text also mentions that were two versions of the publication, one being a special edition on Japanese paper, costing twice as much as the standard version. Due to the thickness of the paper the plates are printed on, we would assume this is the special edition.
This is the first time we have come across this book, so it appears to be a very scarce publication.
An extremely nice volume.
Dimensions: 
305mm high x 278mm wide x 20mm deep.
Weight: approximately 562g.