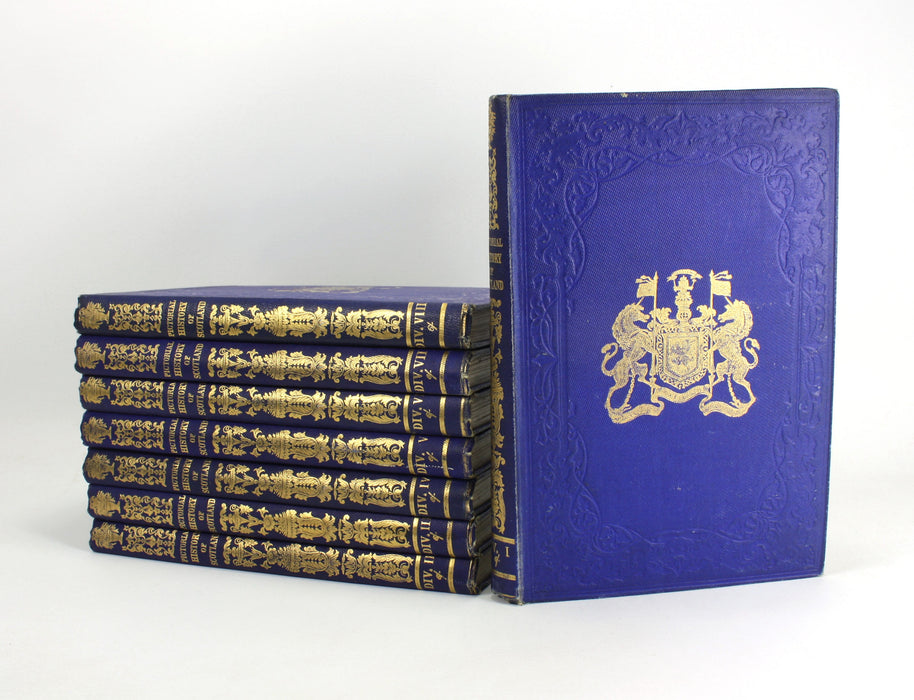 The Pictorial History of Scotland, 1859. 8 Divisions complete. James Taylor.
The Pictorial History of Scotland; From the Roman Invasion to the Close of the Jacobite Rebellion. A.D. 79 - 1746. By James Taylor D.D. Assisted by Professor Lindsay D.D., Professor Eadie, D.D., L.L.D., John Anderson D.D., George Macdonald, Esq., F.E.I.S.
SOLD
Published by James S. Virtue, London and New York, 1859. 1st edition.
An unusual publication - produced in 8 Divisions complete, but published in a format which presumes the contents would later be rebound as just 2 large volumes.
Each Division carries around 10 tissue guarded plates at the front, followed by the text. Divisions I and VIII also carry pictorial title pages for Volumes 1 and 2. Division VIII also contains full titles (uncut), contents and full index, as well as binding instructions for the plates.
This is a good set of blue cloth hardbacks with gilt and blind-stamped design to covers. A few small marks on covers and the rear of Division V is discolored.
Text pages are very good with only occasional foxing spots and the steel engraved plates are also good - their tissue guards are heavily discolored but with only minor spotting on the images. Division I pictorial title is virtually detached but present. Two gatherings in Division VIII are slightly extended out of true alignment with the rest of the text block.
Overall the set has 1023 text pages, plus the various titles, and ads. Plus Plates. Plates comprise 2 x pictorial title pages, 1 x double page map and 78 full page plates. All checked and complete.
An attractive set, not often found in these 8 Divisions.
Dimensions: Approximate size, of each volume: 264mm x 180mm x 22mm. Substantial - weighs approximate 5.5kg unpacked.