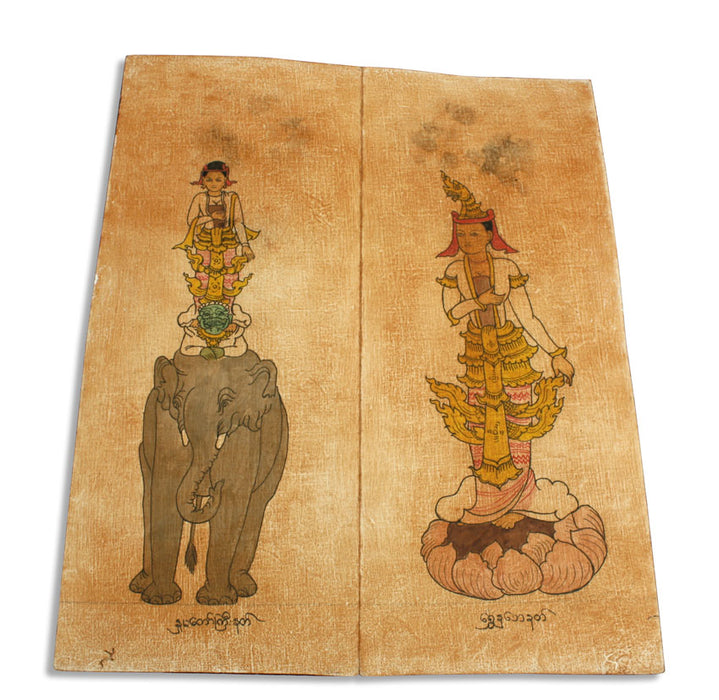 The Thirty Seven Nats, Unique Book of original Burmese Paintings
The Thirty Seven Nats, Unique Book of original Burmese Paintings.
SOLD
This exciting find is a unique Burmese artwork depicting the Thirty Seven Nats. It consists of a concertina style bound document, made from a thick hand-made textured paper and is resplendent with 2 sets of hand drawn illustrations of the Thirty Seven Nats - 74 full colour images in total. 
The book expands to a length of approximately 7 metres long when fully unfurled.
We believe one side depicts the Nats in their Outdoors form and the other as they would be represented Indoors - akin to statues.
Nats originate from the pre-Buddhist animist beliefs of Burmese people. They are a group of supernatural beings, or nature spirits, of which there is special group of 37 'royal' Nats, the royal pantheon. 
Nat worship still occurs in Burmese society alongside Buddhism which is the prevalent religion. It is much more common in rural areas.
Sir Richard Carnac Temple published a book entitled "The Thirty-Seven Nats: A Phase of Spirit Worship Prevailaing in Burma" in 1906, itself a translation of an earlier Burmese manuscript. It is possible that these images would have been based on that publication, or the artist may have used the earlier source material.
Condition: Overall very good. The book is soundly bound. Outer covers are worn and there is the remains of an old label on the front. Some of the images also have the remains of text labels towards the top of the pages, and sometimes holes in the page where the label has been removed, and there are some old damp stains and worm holes - please view the images which are representative of overall condition. For those familiar with old Burmese books, you will appreciate that such wear is to be expected as the Burmese climate is far from ideal when it comes to book preservation.
A truly remarkable and unique find, which will be a great addition to someone's collection.
Dimensions:
Closed: 41.5cm wide x 17.5cm high x 2cm deep
Open: 41.5cm wide x 700cm long.
Date:
20th Century - very difficult to date exactly.