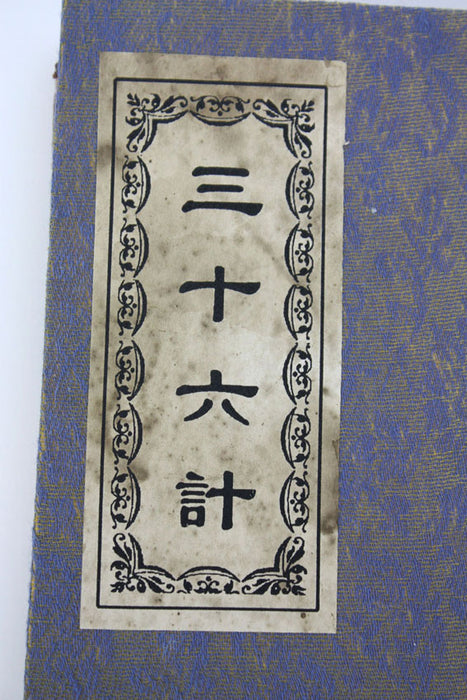 The Thirty-six Stratagems, Silk bound bamboo book, 36 Stratagems
The Thirty-six Stratagems, Silk bound bamboo book, 36 Stratagems
RECENTLY SOLD
Very beautiful silk bound bamboo book from China in wonderful condition. Near fine overall - just some soiling on the label and a touch of looseness to the silk ribbon on the rear.
Concertina style binding with 12 pages overall including 6 character filled pages. Silk and thread binding. Exact age unknown, but approx 1970s (?).
The Thirty Six Stratagems was a Chinese essay to illustrate stratagems which could be used in politics, war or personal interactions.
They are not to be confused with overall broad, long-term 'strategies' but are ruses or tactics which can be used.
Split into 6 sections they convey such messages as:
Winning Stratagems: Deceive the heavens to cross the ocean
Enemy Dealing Stratagems: Hide a Knife behind a smile
Attacking Stratagems:  Entice the tiger to leave its mountain lair...
The Thirty-Six Stratagems have been attributed to Sun Tzu or Zhuge Liang, but nobody is entirely sure of their origin. The basis of the current version was first published in paperback in 1941 and came to a wider public audience in 1961 when a review of it was published in the Chinese Comunists Party's Guangming Daily.
Dimensions:
Folded size: 210mm high x 101mm wide x 30mm high